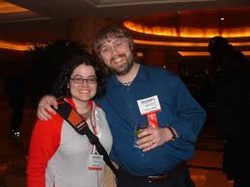 I feel very lucky to have such an online marketing thought leader, and someone so experienced as Tamar, joining our sales team. - Jim Boykin, CEO, Internet Marketing Ninjas
Clifton Park, NY (PRWEB) January 01, 2014
Internet Marketing Ninjas (IMN), a leading internet marketing firm based in Clifton Park, New York, is pleased to announce the recent hiring of Tamar Weinberg. Weinberg will be working as the company's Director of Sales.
With professional experience ranging from governmental agencies, universities, startups and everything in between, Weinberg's breadth of knowledge will help Internet Marketing Ninjas continue to grow. From 2007 to 2013, she worked at Mashable, holding numerous titles such as Community & Marketing Manager and Global Advertising Director. She was just the sixth person hired at Mashable, helping take it from a startup to one of the most visited websites in the world.
On joining the ninja team, Tamar said, "I'm ecstatic to be working alongside some of the brightest minds in the internet marketing industry. Since I learned about Internet Marketing Ninjas almost a decade ago, I've been impressed by the evolution of services offered to date and the focus on search engine marketing and optimization alongside a really unique community element -- and that doesn't scratch the surface. After working with a variety of agencies over the past few years, I've never been prouder to align with an agency that gives such tremendous organic white-hat value to its clients. IMN is comprised of an amazing group of people and the opportunities offered are top notch."
Tamar is a thought leader within the internet marketing industry. She wrote The New Community Rules: Marketing on the Social Web, released in 2009 by O'Reilly publishing, and was referred to as "the authoritative book on social media," by SocialMediaExplorer.com. Furthermore, her blog, Techipedia.com, is an industry staple and has been featured on MSNBC, CNN, USA Today, among many other reputable media channels.
Jim Boykin, founder and CEO of Internet Marketing Ninjas, is excited to have such a recognized talent under the IMN roof. "I'm delighted to have Tamar, join the Ninjas. I feel very lucky to have such an online marketing thought leader, and someone so experienced as Tamar, joining our sales team. It's been a dream of mine for years to have Tamar's skills and experience on our team, and now that dream has come true." Hiring Tamar is another in a string of recent meant to bring some of the most respected names in the industry under the IMN roof. In the past 2 years, Boykin has hired Kris Jones, Chris Boggs, Ann Smarty, Joe Hall, Kim Krause Berg, Bill Atchison, Frank Bauer, Gabriel Goldenberg, and Thom Craver, among others.
About Internet Marketing Ninjas
Internet Marketing Ninjas is a full-service internet marketing company, and is owned and operated by founder and CEO, Jim Boykin. Boykin, who also own Webmaster World and the DeveloperShed network of sites, is widely considered one of the world's leading authorities on internet marketing. Internet Marketing Ninjas currently employs approximately 100 ninjas, and provides everything from traditional SEO to community building, social media management, content management, and consulting and analysis services.