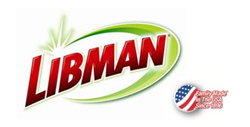 ARCOLA, Ill. (PRWEB) March 01, 2021
Intersport, a Chicago-based sports marketing and media agency, and The Libman Company announced a multi-year agreement that makes Libman the agency's trusted partner to help keep national championship weekend clean.
The agreement spans Intersport's portfolio of basketball properties, including its upcoming schedule of college basketball all-star events in Indianapolis this April, including the State Farm College Slam Dunk & 3-Point Championships, the American Family Insurance Slam Dunk & 3-Point Championships, the Dos Equis 3X3U National Championship. In addition, Libman will also have a presence at the Rocket Mortgage Fort Myers Tip-Off, an early-season tournament annually featuring four of the nation's top programs.
The agreement covers several facets of each Intersport property, including in-arena signage, on-air exposure and social media promotion.
"We are thrilled to be aligning our brand with Intersport and their season-long slate of high-profile properties, beginning with their upcoming events during college basketball's national championship week," said The Libman Company President Andrew Libman. "We take pride in the quality of our products, and we know college athletics is a smart avenue for amplifying Libman's visibility."
"The Libman Company is the trusted name when it comes to cleaning and sanitizing solutions, so this is a fantastic partnership opportunity for us," said Intersport executive vice president Drew Russell. "We are excited to have them join an incredible roster of world-renowned brands within our robust basketball events portfolio."
About The Libman Company
The Libman Company is a family-owned company that has been making quality cleaning tools since 1896. The company manufactures products from brooms and mops to more specialized tools for kitchen and bathroom cleaning and industrial uses. Libman has partnered with a number of NBA franchises, NCAA institutions and NCAA conferences. For more information about the Libman Company, please visit http://www.libman.com.
About Intersport
Since 1985, Intersport has been an award-winning innovator and leader in the creation of sports, lifestyle, culinary and entertainment-based marketing platforms. With expertise in Sponsorship Consulting, Experiential Marketing, Hospitality, Retail Engagement, Content Marketing, Productions and Property Creation, this Chicago-based Marketing & Media Solutions Company helps its clients engage consumers with compelling ideas, content and experiences. To learn more about Intersport, visit http://www.intersport.global, like us on Facebook or follow us on Twitter and Instagram.