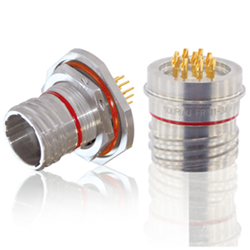 LUMBERTON, N.J. (PRWEB) September 19, 2019
Interstate Connecting Components, (ICC), a division of Heilind Mil-Aero and a leading distributor of military-aerospace connectors and accessories worldwide, has expanded its portfolio of harsh environment interconnects with SOURIAU's D38999 hermetic connectors.
The recently expanded hermetic line is qualified to MIL-DTL-38999 Series III specification and features glass-to-metal seal technology to counter extreme changes in temperature and pressure. The connectors are constructed with stainless steel housing for corrosion resistance and threaded coupling for quick and reliable mating. These high-density connectors also feature an extremely low leak rate, as well as a 30 percent space savings over standard versions.
As with their non-hermetic counterparts, SOURIAU's D38999 hermetic connectors feature a robust mating cycle, 360-degree EMI-RFI shielding and an operating temperature range of -65 degrees Celsius to 200 degrees Celsius.
D38999 hermetic connectors are ideal for applications like military and civil aeronautics, military ground vehicles and offshore marine vessels. Specific uses include sensors, actuators, valves and fuel tanks.
Interstate Connecting Components is currently stocking an extensive selection of SOURIAU D38999 hermetic connectors, with many popular part numbers and layouts available for immediate shipment. Visit ICC's website for more information about SOURIAU D38999 hermetic connectors.
About Interstate Connecting Components (ICC)
A division of Heilind Electronics, North America's largest interconnect distributor, Interstate Connecting Components (http://www.connecticc.com) is an AS9100D-certified value-added distributor for the entire spectrum of electronic connectors, fiber optic connectors, backshells, tools, identification solutions and connector contacts. ICC specializes in the military-aerospace market and offers T'DA® 2-day assembly on 26482, 26500, 5015, D38999, M28840, M83513 and many other MIL-SPEC connector lines. Follow ICC on Facebook at facebook.com/connecticc and on Twitter at twitter.com/connecticc.
About SOURIAU
SOURIAU-SUNBANK is a global leader in harsh environment interconnect technologies. SOURIAU designs and manufactures solutions for a wide range of industries, including aeronautics, space, defense, transportation, energy and industrial equipment.