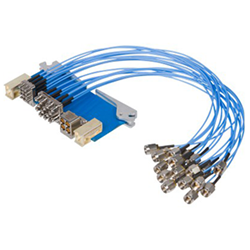 LUMBERTON, N.J. (PRWEB) May 20, 2021
Interstate Connecting Components, (ICC), a division of Heilind Mil-Aero and leading distributor of military-aerospace connectors and accessories, has added Amphenol SV Microwave's full line of VITA 67 interconnects to its growing RF product portfolio.
Featuring high-density cable assembly plug-in modules that mate to backplane adapters, the VITA 67 solution utilizes an SMPM interface and serves as the foundational coaxial interconnect for RF on the VPX platform. This solution is designed for side-by-side implementation with VITA 46 hardware and meets MIL-STD-810 standards for shock and vibration.
A key feature of the interconnects is their floating SMPM coaxial contacts, which ensure superior RF performance in any mating condition. The interconnects also provide a minimal footprint, easy installation and significant reduction in the Mean-Time-to-Repair (MTTR).
In addition to its VITA 67.1 and 67.2 solutions, ICC is offering SV Microwave's VITA 67.3 connectors and cables. This newest specification not only has the advantage of customizable RF contact locations, but also features an edge-launch option that eliminates the need for cable assemblies on the plug-in card.
VITA 67 offers a reliable embedded computing solution for aerospace and defense applications like SIGINT, EWR, ground base station and communication systems, avionics, radars and Air Transport Racks (ATRs). Visit ICC's website for more information about SV Microwave's VITA 67 interconnects.
About Interstate Connecting Components (ICC)
A division of Heilind Electronics, North America's largest interconnect distributor, Interstate Connecting Components (http://www.connecticc.com) is an AS9100D-certified value-added distributor for the entire spectrum of electronic connectors, fiber optic connectors, backshells, tools, identification solutions and connector contacts. ICC specializes in the military-aerospace market and offers value-added assembly on 26482, 26500, 5015, D38999, M28840, M83513 and many other MIL-SPEC connector lines.
About Amphenol SV Microwave
Amphenol SV Microwave is a world leader in the RF/microwave industry with over 50 years of proven performance. SV Microwave designs and manufactures coaxial connectors, cable assemblies, adapters and passive components for the military, aerospace, satellite, high-speed digital, commercial and telecommunications markets.