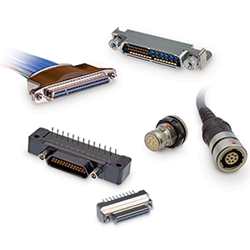 LUMBERTON, N.J. (PRWEB) October 10, 2019
As the result of a recent franchise agreement, Interstate Connecting Components, a leading distributor of military and aerospace connectors and accessories, is now offering products from AirBorn – a premier global manufacturer of harsh environment interconnects.
Among ICC's key AirBorn offerings are rugged board-to-board, Micro-D, nanominiature and circular connectors with high-density and high-speed configurations. Included in this selection are cable and board mount connectors qualified to MIL-DTL-32139, MIL-DTL-55302 and MIL-DTL-83513 specifications. In addition, ICC will offer a complete selection of proprietary AirBorn parts.
"The addition of AirBorn is a win-win for our customers," said Scott Jacobs, Vice President, Interstate Connecting Components. "This strategic partnership will allow us to offer a greater variety of mil-aero interconnect solutions to both existing customers and to new markets around the world."
AirBorn products are found in numerous industries, including military and defense, aerospace, space exploration, marine, energy, geophysical, industrial, instrumentation and medical.
Visit ICC's website for more information about AirBorn.
About Interstate Connecting Components (ICC)
A division of Heilind Electronics, North America's largest interconnect distributor, Interstate Connecting Components (http://www.connecticc.com) is an AS9100D-certified value-added distributor for the entire spectrum of electronic connectors, fiber optic connectors, backshells, tools, identification solutions and connector contacts. ICC specializes in the military-aerospace market and offers T'DA® 2-day assembly on 26482, 26500, 5015, D38999, M28840, M83513 and many other MIL-SPEC connector lines. Follow ICC on Facebook at facebook.com/connecticc and on Twitter at twitter.com/connecticc.
About AirBorn
For over sixty years, AirBorn has been serving OEMs (original equipment manufacturers) with specialized harsh environment connectors, cable assemblies, flex circuit assemblies and other electronic components. These products are engineered and manufactured to the highest quality, using Six Sigma and lean manufacturing principles. AirBorn solutions are relied on by defense, aerospace, medical and industrial leaders to operate their most critical systems in the most demanding environments.