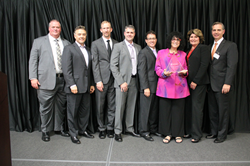 Our commitment to stewardship drives us to embrace and mentor other MWBE companies...
Concord, CA (PRWEB) November 07, 2014
INTREN, an innovative utility solutions partner, is proud to announce it has received Pacific Gas and Electric Company's (PG&E) 2014 Supplier of the Year and Electric Operations Supplier of the Year Awards. Since joining forces in 2010, the INTREN-PG&E partnership has resulted in jobs for nearly 90 local employees, $3 million in second tier spend as a Minority/Women Business Enterprise (MWBE) and a growing community outreach program.
As one of the largest combination natural gas and electric utilities in the U.S., San Francisco-based PG&E employs over 20,000 workers to generate more than $4 billion annually. With a service area covering nearly 70,000 square miles, PG&E relies on the support of INTREN and other partners to serve their 16 million customers throughout northern and central California.
Initially, INTREN first partnered with PG&E in 2010 to provide underground and electrical overhead work. At that time, INTREN had a local employee base of just 15 people, yet produced nearly $2 million in initial spend for PG&E.
Today, just 4 years later, INTREN's local workforce has grown to nearly 90 among 2 San Francisco Bay Area offices, now producing more than $30 million in revenue for PG&E.
Underpinning this growth is the combination of INTREN and PG&E's commitment to diversity and continuous improvement. As an MWBE contractor, INTREN is proud to be part of PG&E's focus on boosting California's economic growth through the development of minority-owned businesses. In fact, in 2013, PG&E spent more than $2 billion with diverse suppliers such as INTREN.
"Our commitment to stewardship drives us to embrace and mentor other MWBE companies to offer the same opportunities I was provided," said Loretta Rosenmayer, INTREN Founder and CEO.
INTREN and PG&E also share a commitment to continuous improvement. In addition to their own employee training and development programs, INTREN will be participating in PG&E's PowerPathway program to cultivate the next generation of utility workers.
Taking their dedication to stewardship even further, INTREN has grown its employee community service program through relationships with local charities, including Sentinels of Freedom Scholarship Foundation, AIDS Walk, Second Harvest Food Bank, Best Buddies International and the ALS Association.
About INTREN
For more than 25 years, INTREN has been an innovative solution partner, dedicated to building and maintaining the infrastructure of the energy industry. The company's culture of stewardship guides INTREN to care for others' priorities as if they were their own. Through an unwavering commitment to safety, integrity, customer focus and employee empowerment, the company has succeeded in offering turnkey services to a long list of satisfied clients. As an industry leader, INTREN is proud to serve many of the country's foremost utility companies, private contractors and developers, municipalities and cooperatives. For more about INTREN, visit INTREN.com.
####