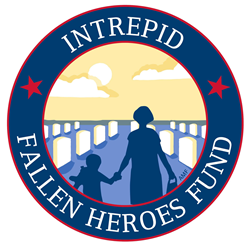 "We want to thank the DAV Charitable Service Trust for this very generous grant that will help the Intrepid Fallen Heroes Fund ensure that the men and women who are injured while defending our nation will have access to the best care available," said David Winters, President, IFHF
NEW YORK (PRWEB) January 16, 2020
The DAV (Disabled American Veterans) Charitable Service Trust has announced the award of a $500,000 grant to the Intrepid Fallen Heroes Fund (IFHF), a nonprofit organization and national leader supporting the men and women of the United States armed forces and their families. This grant raises the organization's cumulative total to nearly $5 million received from the DAV Charitable Service Trust over the years.
"We want to thank the DAV Charitable Service Trust for this very generous grant that will help the Intrepid Fallen Heroes Fund ensure that the men and women who are injured while defending our nation will have access to the best care available," said David Winters, president of the Intrepid Fallen Heroes Fund. "With grants like these and donations from the American public, we are able to help our armed services members who suffer from TBI and other psychological health conditions recover from their injuries and return to their lives."
The DAV Charitable Service Trust advances programs and services that cater to our nation's veterans as well as their caregivers and families. By supporting the work of the charitable organizations that offer these services, the Trust plays an essential role in ensuring that America keeps its promises to those who make such significant sacrifices for national safety and security.
"The men and women in uniform who have suffered severe brain injuries and psychological stress in service are blessed to have an organization like the Intrepid Fallen Heroes Fund," said Charitable Service Trust President Richard E. Marbes. "Intrepid Spirit Centers bring together state-of-the-art rehabilitative care and a nurturing recovery environment staffed by caring and dedicated professionals. DAV is confident that this latest grant will serve to continue the delivery of quality care for thousands of injured veterans."
One hundred percent of the Trust's grant goes to the IFHF's mission of building 10 Intrepid Spirit Centers around the country that diagnose and treat traumatic brain injury and post-traumatic stress in U.S. service members. Intrepid Spirit Centers currently operate at Camp Pendleton, California; Fort Campbell, Kentucky; Camp Lejeune and Fort Bragg, North Carolina; Fort Hood, Texas; Fort Belvoir, Virginia; and Joint Base Lewis-McChord, Washington. The organization is in the process of building a center at Eglin Air Force Base, Florida, the first Intrepid Spirit Center at an Air Force base. Two more are also in development, at Fort Carson, Colorado, and Fort Bliss, Texas. Each Intrepid Spirit Center is equipped with the latest in brain technology and treatment facilities and spans 25,000 square feet.
About the Intrepid Fallen Heroes Fund
The Intrepid Fallen Heroes Fund (IFHF) serves United States military personnel experiencing the invisible wounds of war: traumatic brain injury (TBI) and post-traumatic stress (PTS), the signature wounds of today's wars. In response to this critical need, IFHF is building a series of 10 specially designed treatment facilities, Intrepid Spirit Centers, at military bases across the country. Within these centers, service members receive the most advanced and proven care to address the complex symptoms of TBI and PTS. More than 90% of service members treated at the Intrepid Spirit Centers are able to continue on active duty and enjoy a full life. Seven Intrepid Spirit Centers have been built and are open at military bases around the country. An eighth is currently under construction. Two more of these critically needed facilities remain to be built. Each new Intrepid Spirit Center will provide care to thousands of service members suffering the devastating effects of TBI and PTS. Each center costs between $13 million and $14 million to build and equip. One hundred percent of donations to IFHF go directly to building Intrepid Spirit Centers. All administrative costs are paid for by the board of directors. For more information, visit http://www.fallenheroesfund.org.
About DAV Charitable Service Trust
For more than 30 years, the DAV Charitable Service Trust has played a critical role in the support of ill and injured veterans, their families and caregivers as they navigate the challenges of life after wartime service. Each year, the organization assists thousands of America's heroes through targeted grant support of charitable initiatives across the nation. Learn more at http://www.charitableservicetrust.org.
About DAV (Disabled American Veterans)
DAV empowers veterans to lead high-quality lives with respect and dignity. It is dedicated to a single purpose: fulfilling the promise to America's veterans. DAV does this by ensuring that veterans and their families can access the full range of benefits available to them; fighting for the interests of America's injured heroes on Capitol Hill; providing employment resources to veterans and their families and educating the public about the great sacrifices and needs of veterans transitioning back to civilian life. DAV, a non-profit organization with more than 1 million members, was founded in 1920 and chartered by the U.S. Congress in 1932. Learn more at http://www.dav.org.