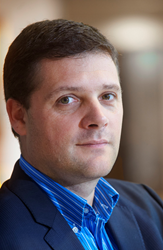 Chief Executive Officer Pim Tuyls will make two speaking appearances during the 56th Design Automation Conference in Las Vegas.
SUNNYVALE, Calif. (PRWEB) May 29, 2019
Intrinsic ID, the world's leading provider of digital authentication technology for Internet of Things security, today announced Chief Executive Officer Pim Tuyls will make two speaking appearances during the 56th Design Automation Conference, in Las Vegas June 2-6.
On June 4 Tuyls will participate in an IP track entitled IP to Secure Devices in a Hostile World and present "IoT Security: It Starts with the Silicon."

June 4, 1:30 p.m. to 3 p.m. PDT
Location: Room N264, Las Vegas Convention Center
Summary: Today's Internet of Things requires an unprecedented level of security, one that exposes the shortcomings of traditional approaches. Today's threats -- interception of data, attacks to a device's integrity, theft of private keys -- reflect a level of sophistication never before seen. Historical methods of combatting them, which rely on various approaches to "inserting" secrets into computing systems, all have an Achilles heel that creates vulnerability, and accompanying business concerns, for IoT product providers and the companies that supply their chips. The physics of silicon offers a security solution that addresses these security and business concerns, and at the same time allows for future improvement. SRAM PUF (Physical Unclonable Function) technology utilizes the unique differences created in each fragment of silicon to derive a device identity that is not only impossible to clone or duplicate, but also allows for deployment of, or upgrades to, security for already-deployed devices. This IP's agnosticism to fab and technology node selection improves time to market and design/TCO efficiency. SRAM PUF's unique capabilities make it particularly suited to scaling the IoT in an economically viable way.
On June 5 he will participate in the special session Co-designing Hardware and Software for Secure Next Generation Platforms and present "Untrusted Endpoints are Not an Option."

June 5, 10:30 a.m. to noon PDT
Location: Room N259, Las Vegas Convention Center
Summary: Growth in the Internet of Things continues to accelerate. Unfortunately, so does growth in the number of threats. IoT security has not kept pace with the increased opportunity from IoT growth. Securing endpoints in a reliable and robust method to achieve trust in the IoT can come at a significant cost. Strong device authentication is pivotal to scaling confidently and profitably. This presentation will describe how strong security, achieved via Unclonable Identities, can be established in an industrial setting and an economically viable manner.
Pim Tuyls is CEO of Intrinsic ID, a company specializing in IoT security technology. He initiated the original work on Physical Unclonable Functions (PUFs) that forms the basis of Intrinsic ID's silicon fingerprinting technology while at Philips Research, where Pim was Principal Scientist and managed the cryptography cluster. In 2008 he founded Intrinsic ID and has headed the company since 2010. He holds a Ph.D. in mathematical physics from Leuven University, holds 50+ patents and is widely recognized for his work in the field of SRAM PUFs and security for embedded applications. He has written significantly in the field of security, including his co-written book Security with Noisy Data, a survey into the theory and practice of new technologies in the field of security based on noisy data, which describes applications in the fields of biometrics, secure key storage and anti-counterfeiting.
The 56th annual Design Automation Conference will be conducted June 2-6 at the Las Vegas Convention Center in Las Vegas, Nev., in North Halls 3 and 4. For more information on the conference visit the DAC website.
About Intrinsic ID
Intrinsic ID is the world's leading digital authentication company, providing the Internet of Things with hardware-based root-of-trust security via unclonable identities for any IoT-connected device. Based on Intrinsic ID's patented SRAM PUF technology, the company's security solutions can be implemented in hardware or software. Intrinsic ID security, which can be deployed at any stage of a product's lifecycle, is used to validate payment systems, secure connectivity, authenticate sensors, and protect sensitive government and military systems. Intrinsic ID technology has been deployed in more than 125 million devices. Award recognition includes the Cyber Defense Magazine InfoSec Award, the IoT Breakthrough Award, the IoT Security Excellence Award, the Frost & Sullivan Technology Leadership Award and the EU Innovation Radar Prize. Intrinsic ID security has been proven in millions of devices certified by Common Criteria, EMVCo, Visa and multiple governments. Intrinsic ID's mission: Authenticate EverythingTM. Visit Intrinsic ID online at http://www.Intrinsic-ID.com.
Intrinsic ID, the Intrinsic ID logo and "Authenticate Everything" are trademarks or registered trademarks of Intrinsic ID, Inc., and are protected by trademark laws of the United States and other jurisdictions. All other product and company names are trademarks or registered trademarks of their respective companies.