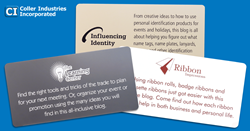 Find the right tools and tricks of the trade to plan for your next meeting. Or, organize your event or promotion using the ideas on these blogs.
SALT LAKE CITY (PRWEB) May 06, 2019
Coller Industries Incorporated announces the latest enterprise in blogging. From Ribbon Impressions (a custom ribbons blog) to Influencing Identity (all about name tags and personal identification) and beyond, we believe that learning about personal identification should be all-inclusive and available to everyone.
The Learning Center is full of articles about learning how to host the best event ever, networking with colleagues and so much more. We guarantee that the information you find here will help you and your business. With a wide range of products such as ribbon rolls, rosettes, name tags, lanyards and award plaques, we want to make sure that you know how and where to use them. Whether you're planning the best conference anyone will ever attend or hosting a simple dinner party, The Learning Center is here to make sure you are using these tools in the best possible ways. https://www.nametag.com/learning-center/
Influencing Identity is here to help you figure out how to use name tags and identification products. From name tags for your business to badge holders for your next conference, we have it all. Get all your identification needs in one place and find out how to use them at work, while networking and at any event you are planning. Use our how-to articles to get your ideas flowing for working with all of your personal identification. https://www.nametag.com/nametagexperience/
Ribbon Impressions provides information about everything from custom ribbon roll ideas for your wedding to badge ribbons for a conference or convention. And don't forget about rosette ribbons for your award needs, such as fair or festival prizes. Find all your ribbon needs in one place and learn how to best use them at events, during promotions and for your corporate gifting. Discover inspiration for using personalized ribbons and find useful how-to articles. https://www.personalized-ribbons.com/ribbon-news/