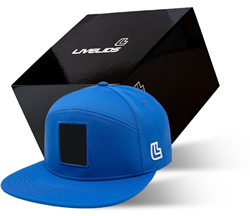 "Everyone should be able to express who they are and what they love through what they wear." says LiveLids cofounder, Martin Malek.
NEW YORK (PRWEB) October 27, 2020
Live Lids Inc. (LiveLids.com), a tech-infused apparel company, announced plans to launch its game-changing baseball cap with embedded LCD display in time for the holidays.
"I've always believed fashion to be the pure expression of self," said LiveLids cofounder, Martin Malek. "Everyone should be able to express who they are and what they love through what they wear."
Malek believed the nexus of technology and fashion could accomplish this and so he started with the classic baseball cap and brought it to life with the addition of an embedded 2.4" LCD screen.
The cap has built-in WiFi that enables uploading 100 images at a time to the cap through the LiveLids app. Through the app, the user controls the transition speeds of the images so that their fashion statement is subtly changing every couple of seconds. Charge your cap through a port in the snap back for 8 hours of continuous run time.
LL Nation: "Wear and Share"
The LiveLids App is also a community, much like Instagram or TikTok, that is populated with user-generated content. In fact, it's the first social community specifically created to curate display-worthy designs across hundreds of genres and themes, meant to be worn on the cap. Users can show their love by displaying logos, photos and artwork inspired by their favorite sports teams, athletes, fashion houses, films, tv shows, celebrities, artists, and pretty much anything else imaginable. No matter what your interests, the community has probably built a playlist for you to wear (or users can create their own) with the built-in app tools.
The cutting-edge tech in LiveLids is complemented by the high quality materials used to make the caps. Each hat has been constructed with the finest blend of lightweight Poly-Elastane material. This innovative cap with unlimited possibilities retails for $149, is available in a variety of popular colors, and arrives packaged in a wonderfully chic, black gift box. The LL cap will be available for purchase online at LiveLids.com starting October 19th. Hats ordered before December 10th are guaranteed to arrive before the Christmas holiday, but only a limited quantity have been made.
App Store: https://apps.apple.com/app/id1535902677
Play Store: https://play.google.com/store/apps/details?id=com.LiveLids.app