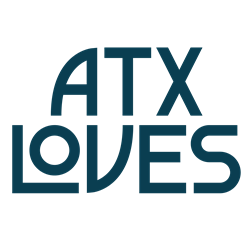 We're thrilled to be working on something that directly benefits Austin – All of Austin, not just the usual tourist spots.
AUSTIN, Texas (PRWEB) September 05, 2018
Today, lookthinkmake is pleased to announce the launch of ATXLoves.com, a new tourism campaign funded by a grant developed by the Austin City Council to market and promote homegrown Austin businesses to tourists. Through ATXLoves.com, visitors will encounter an online experience guide and interactive map that reframes the way most online review sites categorize local businesses through a uniquely Austin lens, and places a greater emphasis on small businesses and locally-owned attractions across the entire city. Businesses featured on the site are pulled from local publications' "Best Of" lists, and through curated lists hand-selected by more than 50 Austin influencers. ATXLoves.com is scheduled to go live on September 1 and will run through the end of November.
While Austin has a healthy tourism industry, small and locally-owned businesses don't always receive the same influx of tourists during the festivals, sporting events, and other major-draw events that make Austin a worldwide destination. As part of its continuing efforts to encourage out-of-town patronage of local favorites, the Austin City Council set aside a portion of revenue from its Hotel Occupancy Tax to fund a grant that was awarded to Austin-based advertising and public relations agency lookthinkmake, who envisioned and created the ATXLoves campaign – a no-profits guide to the city created and curated by those that know it best.
Through ATXLoves' reframing of the typical tourist attraction catalog, visitors can search for a type of experience rather than just a category of businesses. Beyond being able to browse a list of Tex Mex restaurants, for example, visitors will also be able to see a cross-cultural list of family-owned and run businesses; or when searching for kayak rentals on Lake Austin, they might see an "unfamiliar recreation" category that pulls in paddle boarding, indoor skydiving and axe throwing. By pulling from local publications' "Best Of" lists, courtesy of the Austin Chronicle, Austin Monthly, Tribeza Magazine and the Austin Independent Business Association's Armadillo Awards, and tasking a range of organizations and influencers like Mayor Steve Adler, South by Southwest, the Austin Young Chamber and Do512 to populate the site, ATXLoves.com connects visitors to the food, drink and experiences that locals love, and to locals' favorite spots off the beaten path. It's a channel for visitors to experience Austin on a deeper level while rewarding and championing the small businesses that give Austin its identity and reputation.
"We're thrilled to be working on something that directly benefits Austin – All of Austin, not just the usual tourist spots," said lookthinkmake partners Patricia Buchholtz and Sean Thompson. "lookthinkmake has spent the last decade carving out our niche as an agency for places, and we've been lucky enough to have a hand in working with a lot of the places that make Austin what it is. It's wonderful to finally be doing work for Austin as a whole and getting to share what we love about this city with others."
Starting at launch, the guide will also feature curated lists of spots from Austinites-of-note like Jane Ko, Shinyribs and more, which will be included in its experiential categorization and included as standalone lists. Visitors who want to experience Darden Smith's Austin (and maybe run into him at one of his favorite spots) can use a list as a trip itinerary or pick and choose blogger-approved selfie spots, an Austin musician's favorite stages, or a chef's picks for the best brisket in town. Over time, the ATXLoves team will continue to release Austinite lists, growing the guide's database of attractions to build a dynamic list that is inclusive of Austin's diverse and wide-ranging population.
Be on the lookout for ATXLoves all over Austin – lookthinkmake's campaign is running ads online, in magazines and on the streets of Austin. Beginning in September, Austinites and tourists can find ATXLoves at the airport, on the side of buses, on lampposts downtown and at all of Austin's major festivals throughout the fall.