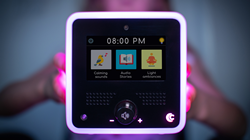 Is your child ever a bit riled up when they are supposed to be winding down? This device has got you covered! Calmy will boost their imagination, foster their curiosity, make them discover new cultures, all the while helping to soothe them, and set the mood for a good night's sleep.
SAN FRANCISCO (PRWEB) November 10, 2020
Calmy is a touchscreen storyteller device that provides soothing stories, calming sounds, and light ambiances for kids of all ages, making bedtime more peaceful and easing restless minds. It features thousands of stories sorted by categories and age (new selections will be added weekly).
The Calmy Kickstarter campaign launched on Nov. 10. It's the brainchild of JOY Familytech, developers of Octopus Watch, the first icon-based watch that teaches kids good habits and the concept of time. Octopus Watch raised more than $2 million on Kickstarter and Indiegogo and was sold in Target and Walmart.
Kids will love Calmy! It creates a relaxing atmosphere that boosts imagination, fosters curiosity, and lets kids discover new cultures, all the while helping to soothe and set the mood for a good night's sleep. When it's time to sleep, Calmy transforms into a nightlight, then turns into a serene alarm in the morning to make sure children always wake up on the right foot.
Calmy doubles as a circadian light with 24 multi-color LEDs that display virtually any color and is preloaded with several ambiances to produce effects for focus, calmness, and more.
Customize your Calmy with cute sticker panels that can easily be changed.
Help your child create healthy bedtime habits. Learn more about the benefits of reading at bedtime.
Follow JOY Familytech on social:
Facebook: http://facebook.com/joyfamilytech
Facebook Group: https://www.facebook.com/groups/calmy
Instagram: http://instagram.com/joyfamilytech/
About JOY Familytech:
JOY Familytech provides the training wheels for good habits. The company's mission is to empower families by helping parents offer structure and routines in their children's lives. This helps children develop self-discipline and self-esteem and provides them with the organizational skills necessary for a successful and happy life. The company consists of a passionate, diverse team with backgrounds in child development, engineering, business, and communication.