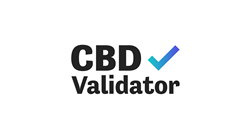 "Given the rapid growth of the CBD market and that studies and reports give a failing grade to many CBD products for sale, we created CBD Validator to provide consumers with a resource to make more informed buying choices," says Dr. Robert Portman, CEO and Founder, CBD Advanced Science.
NEW YORK (PRWEB) January 23, 2020
CBD Advanced Science, a company committed to empowering consumers with much-needed CBD (cannabidiol) product information and clarity, announces the launch of CBD Validator. This is the first independent, unbiased digital tool that rates CBD oils and tinctures based on source, price per dose, safety, quality and manufacturer's transparency. Developed by scientists and experts in hemp cultivation and CBD extraction, CBD Validator operates from a database of 1,300+ (and growing) CBD oil products based on its proprietary 50-point rating system. Consumers can access the tool from desktop or mobile devices for a convenient, go-to resource for CBD product information.
"Given that only 8% of products tested by the FDA actually contain the amount of CBD claimed on labels, we were compelled to create CBD Validator which provides a guide and rating system for consumers to make well-informed and confident choices when buying CBD products," says Dr. Robert Portman, CEO and Founder of CBD Advanced Science. "Considering the rapid growth of this market and that FDA studies and reports published in leading medical journals give a failing grade to many CBD products for sale, a consumer tool of this nature is absolutely necessary."
CBD has been touted as a panacea for everything from anxiety, pain and sleep disorders, to even life-threatening illnesses. Not surprisingly, there have been hundreds of new products introduced in the past year alone, as aggressive marketers attempt to exploit this opportunity frenzy. Because CBD products are largely unregulated and lack consistent laws and rules state to state, consumers are forced to conduct their own experiential research, which can be time consuming and confusing with the staggering amount of information, misinformation and misbranded products.
How it Works
The proprietary 50-point rating system was based on the science surrounding CBD. Dr. Robert Portman heads up a team that reviewed hundreds of published reports, many in peer-reviewed journals. These studies encompassed all aspects of CBD including clinical efficacy, safety, manufacturing and growing conditions. Based on this comprehensive review of data, a rating system was created to evaluate CBD products. The team then analyzed the published website or label information of CBD products using this system, and every product is given a score from 1-50.
The CBD Validator database is comprised of over 1300 products and is being updated daily, and has also compiled a Top 100 list of CBD oils using this rating system. Currently, CBD oils and tinctures are rated, with additional product categories to be included at a later date.
The rating system evaluates:

Type of CBD used
Extraction method
Quality assurance
Cost
Milligrams per dose
First, consumers click on Validate Your CBD oil and a drop-down menu appears. Next, they can enter the company/product to be verified, and a Validator Report is instantly generated. CBD Validator gives every product a rating ranging from Poor to Excellent, depending on the product's total numeric score.
Note: The CBD Validator site does not evaluate the science behind the CBD health claims. Until there is regulation about CBD marketing and claims, the consumer maintains accountability on his/her/their own determination of efficacy through personal, experiential research or experience.
About CBD Advanced Science and CBD Validator
CBD Advanced Science was established to provide consumers with a much-needed resource to help make informed decisions when purchasing CBD products. The company is committed to providing consumers with unbiased information about the growing number of CBD products marketed today, with the development of CBD Validator.
Our team of experts is driven by the belief that consumers have an absolute right to know what is in their CBD products. CBD Validator is the first comprehensive and easy-to-use tool that allows consumers to evaluate and compare over 1300 CBD oils and tinctures. Each product receives a CBD Validator Score based on how it meets the key criteria outlined in our proprietary 50-point rating system. As an aggregator of product information, CBD Validator does not assess the validity of claims made by a manufacturer.
CBD Validator is completely independent, not sponsored by any manufacturer of CBD products, and does not accept advertising or receive sales commissions from any manufacturers or marketers of CBD products. For more information, please visit CBD Validator or follow us on LinkedIn, Instagram, Facebook and Twitter.