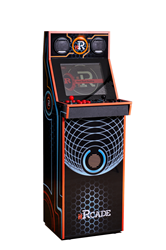 With iiRcade, you'll never need to buy another arcade cabinet to get a new game.
CHICAGO (PRWEB) May 18, 2020
iiRcade, the ultimate connected arcade machine that allows gamers of all ages to own and play their favorite retro arcade games and modern games in the true arcade style at home, will soon start taking pre-orders on Kickstarter, with a special early bird price starting at $299. Subscribe here to receive launch alerts.
iiRcade will be the ultimate home arcade machine providing gamers with their favorite officially licensed modern and retro games.
Unlike other arcade devices, iiRcade is not limited to just a few pre-loaded games, new games can be purchased and downloaded through the iiRcade online game store.
Featuring a 19-inch display, 80-watts of powerful stereo audio with authentic arcade controllers and a premium wood cabinet, iiRcade will retail for $599 for the bartop and $149 for the cabinet stand (after the Kickstarter campaign).
"With iiRcade, you'll never need to buy another arcade cabinet to get a new game," said Jong Shin, CEO & founder of iiRcade. "We'll always be releasing new gaming options and experiences via continuous additions of new officially licensed games to our online game store and new gaming features via software updates to make iiRcade the ultimate home arcade machine for the whole family."
iiRcade's gaming library continues to grow every month. It now includes Double Dragon 1, 2 and 3, Dead Effect 2, Snow Bros 1 and 2, Super Burger Time, R-Type, Wonder Boy : A Dragon's Trap, Pang Adventure, Night Slashers, 64th Street: A Detective Story, Riptide GP Renegade, Mechanic Escape, Snowboard Championship and so much more. A full updated list of games will be available by the Kickstarter launch date at iiRcade.com.
For more information and to subscribe for launch and product announcements, visit iiRcade.com.
About iiRcade
iiRcade is the ultimate connected arcade product for your home. Created by gamers for gamers, iiRcade integrates solutions that us gamers have always dreamed of. Immersive arcade gaming for home, legally licensed games with the real arcade experiences that we grew up with, not having to purchase more cabinets every time we want a new arcade game, small enough for homes yet big enough for comfortable game playing, never-before-seen experiences, affordable arcade gaming. iiRcade is the ultimate arcade solution that enables anyone to own the entire arcade at home.