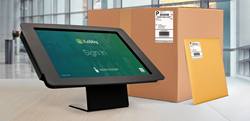 TORONTO (PRWEB) February 12, 2020
As a global leader in enterprise visitor management, iLobby® aims to automate tracking and management of everything that moves through an organization's doors. iLobby Delivers™ marks the company's first major venture outside of its flagship product, adding automation, security and oversight into a new business function. iLobby Delivers™ provides a complete mail management system, enabling businesses to easily process all deliveries to their reception, mail room, or receiving dock.
"We're excited to officially announce the launch of iLobby Delivers™" says CEO Ariel Mashiyev, "Our clients have already been integrating it into their offices and the response has been amazing. This new product really helps streamline a time-consuming task that is often overlooked." With iLobby Delivers™, companies can now easily process letters, parcels, and lunch orders to get them to the right employee quickly.
It's as easy as taking a photo of the shipping label, and iLobby Delivers™ will do the rest. The app automatically matches the label to an employee in the database to send them a notification that their package has arrived. If employees forget to pick up their mail, they will receive daily reminders – placing the responsibility of mail management on the individual employees. Admins can get an overview of important details at a glance, such as delivery status, tracking numbers, who signed for it, carrier names, photo of the shipping label, and more.
iLobby Delivers™ is available as a standalone product, or as an extension of your existing iLobby® Visitor Management portal. You can now manage an unlimited amount of mail, parcels, and packages – all for one flat fee. To learn more about iLobby Delivers™ or watch the product demo, visit https://ilobby.com/delivers.
About iLobby
iLobby® is a global leader in enterprise visitor management, trusted by thousands of businesses worldwide to track, manage, and monitor who is in their building. The iLobby® Visitor Management System has become an integral part of day-to-day operations in organizations such as major banks, international airports, government, and Fortune 500 companies. To learn more about iLobby®, visit ilobby.com.