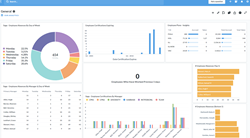 "Strong data analysis is critical to empowering people to make the best business decisions. If you don't have all the data at your fingertips, how can you be certain the decisions being made are furthering the success of the company?"
DELAND, Fla. (PRWEB) September 26, 2019
LightWork Software, a leading provider of HR solutions, announced today the release of its new LightWork Analytics reporting and analysis tool for small and midsized businesses (SMBs). Part of the suite of LightWork solutions, LightWork Analytics aggregates data from any of its clients' software tools to help companies make informed business decisions.
LightWork Analytics is not a static display, rather a dynamic tool designed to display valuable data in a way that can be easily consumed to give strong direction for departments and the organization as a whole.
It lets users ask questions about their data and display those answers in formats that make sense, whether that is a bar graph or a detailed table. The questions can be saved for later, making it easy to revisit them. Questions can also be grouped into great looking dashboards and then easily shared with the rest of the team.
"Strong data analysis is critical to empowering people to make the best business decisions. If you don't have all the data at your fingertips, how can you be certain the decisions being made are furthering the success of the company?" said Pamela Perryman, CEO at LightWork Software. "LightWork Analytics makes this easy, and we are excited to make this available to other growing businesses to support them on their journeys."
LightWork Analytics Key Features include:

Reports on your LightWork database and all integrated HR and payroll modules and other business productivity apps to gain a comprehensive view of all data sources
Dashboard filters to parse data for display of just what you need
Drill down using X-rays for a fast and easy way to get automatic insights and exploration of your data
Visual alerts based on system triggers to keep you on track
LightWork Software, a DeLand, FL based company has been helping clients make their employees successful for over 25 years. Our team is made up of a diverse group of individuals who are dedicated to providing exceptional service to our clients. We believe if people are successful, companies will be successful too, so we place our focus on helping companies grow and nurture their employees. We work hard to produce a product that meets their needs and exceeds their expectations, and we look forward to LightWork Learning management impacting our clients' employee development for good. To learn more about LightWork Software visit: http://www.lightworksoftware.com.