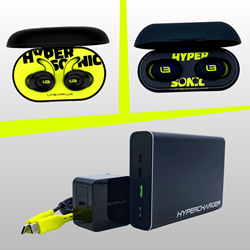 We established LinearFlux to build badass mobile accessories that would exceed any consumers' daily lifestyle needs and expectations. There is no other brand out there offering the same level of value and performance at such affordable price points."
SAN FRANCISCO (PRWEB) July 28, 2020
The mobile consumer electronics accessories category is experiencing a major revolution, led by LinearFlux. The dynamic company combines advanced proprietary technologies with unmatched design, performance, and lifestyle features. Having already set the standard for portable power products, LinearFlux is launching a potent new generation in premium portable charging and audio products at prices that discriminating consumers can afford.
Founders David Leung and Einstein Galang launched LinearFlux in 2014. As proven technology innovators and product designers, together they led the development team behind the hyper-successful Beats® by Dr. Dre headphone brand. Holding educations in Engineering, they worked in and managed product development which included all Engineering and Design at Monster Products. "Music is essential to our lives. It's what drives us. Einstein and I have always been driven by our passion for cultivating the latest technology and design to make music sound and look better," said Leung. "We established LinearFlux to build badass mobile accessories that would exceed any consumers' daily lifestyle needs and expectations. There is no other brand out there offering the same level of value and performance at such affordable price points."
LinearFlux began by revolutionizing the world of portable power. After recognizing that charging options for on-the-go travelers and businesspeople utilized run-of-the mill technologies and lacked style, David and Einstein created their first truly disruptive product. The LithiumCard™, the world's first and thinnest portable HyperCharger™, set a new benchmark in charging speed, efficiency and design. In fact, it is still a marquee product in portable power.
LinearFlux continues to expand its footprint in mobile electronics, offering two distinct lines of portable products: HyperChargers™ for power and HyperSonic™ for audio. In addition to a new line of advanced portable chargers featuring LinearFlux's proprietary HyperCharge™ technology circuitry (winner of 2018 and 2019 CES Innovation Awards), the company is introducing breakthrough HyperSonic™ headphones that offer amazing sound quality, comfort, and features.
New Products: Setting Benchmarks in Portable Charging and Audio
HyperCharger MAX: 100-Watt Ultimate Portable Power (SRP: $79.99)
Featuring LinearFlux's renowned HyperCharge™ technology, 20,800mAh of capacity and an ultra-black premium metal finish, the robust, safe, and lightweight HyperCharger MAX is a 3-in-1 USB-C portable charger. HyperCharger MAX is a part of the company's Digital Series of mobile chargers. It charges any USB-chargeable devices with blazing speed and efficiency, including laptops up to 1.5 times, tablets up to 3 times, and smartphones up to 6 times, thanks to its energy-dense reservoir containing 20,800mAh of capacity.
The Tesla-type premium battery cell technology enables HyperCharging speeds, charging Apple iPhone 8 and up (using LinearFlux's Apple MFi approved USB-C to Lightning cable, sold separately) and Samsung Galaxy S8 and up, from zero to 50% capacity in the time it takes to drink a cup of coffee. That's up to 7x faster than the competition! It will quickly HyperCharge laptops with its class leading, 100-Watt of GaN-based technology, using the included USB-C cable.
For total on-the-go convenience, users can recharge the HyperMAX anywhere with the included low-profile 30W PD USB-C high-power wall charger in less than 3 hours.
The super-versatile HyperMAX features one 100 Watt capable USB-C input/output for charging any USB-C device, two USB-A outputs, and supplementary microUSB input. Thanks to its unique segmented fuel gauge, users know how much capacity is left on the HyperMAX at any time. The product's convenient LED display turns green when the HyperCharging protocol is enabled for compatible a laptop, tablet, or smartphone.
HyperSonic: True Wireless 3D HyperDefinition (SRP: $99.98)
LinearFlux's HyperSonic: True Wireless In-Ear HD Speakers, available in either Acid Green or Stealth Black, deliver true Wireless Hyper-Definition sound quality specially tuned for popular streaming services including Spotify, Apple Music, and Pandora. The Bluetooth 5.0 technology eliminates call and music dropouts, and the exclusive DL01 Immersive Sound Engine enhances music clarity so listeners feel the detail, dynamics, powerful bass and emotion from their favorite musical artists.
Thanks to HyperSonic True Wireless Squared Technology, there's never any need for wires or tangled recharging cables. With three different sizes of pillow-soft ear-tips that block external noise and ensure a snug and comfortable fit for everyone, the sweat-proof HyperSonics are ready for tough workouts, busy city commutes, or just chilling out listening to music. Form-fitting sport ear-hooks eliminate the worry of the headphones falling out of the ear while minimizing ear fatigue for all-day comfort.
A built-in multi-beam microphone offers optimal sound intelligibility during phone calls, and the Qi-compatible wireless charging case (also USB-C wired charging compatible) is super convenient. Tough and durable, they feature an IPX7 water-resistant rating with an 18-month warranty against sweat and dust. Users enjoy up to 6-8 hours playtime per charge, and 20+ hours with the charging case. Additionally, 5 minutes of HyperCharging in the charging case provides an additional 1 hour of playtime.
HyperSonic™ Lite: True Wireless HyperDefinition (SRP: $79.99)
LinearFlux's water-resistant super durable earbud-style HyperSonic Lite - True Wireless In Ear HD Speakers have just debuted with virtually all of the advanced features of its bigger brother. HyperSonic Lite features LinearFlux's DL02 Immersive Sound engine, and are optimally tuned for listening to popular HD music streaming services including Spotify, Apple Music, and Pandora.
The IPX6 Water Resistant earbuds come with a handy Qi Wireless Compatible Charging Case as well as an USB-A to USB-C recharging cable. They feature an 18-month warranty against sweat and dust, and offer up to 6-8 hours playtime per charge, and 18+ hours with charging case. The HyperSonic Lite are available in acid green and stealth black.
LinearFlux products are now available at amazon.com, Sam's Club, and Walmart.
About LinearFlux
Headquartered in San Francisco, LinearFlux™ is committed to designing, engineering and manufacturing mobile accessories that far exceed consumers' everyday needs. Its first product, LithiumCard™, established the industry benchmark for ultra-fast charging, using the proprietary Hypercharger™ technology. Today, LinearFlux offers two lines of mobile products, HyperChargers™ for power/accessories, and HyperSonic™ for audio. Founded in 2014, LinearFlux has back to back CES Innovation Wins from a team that consists of over 30-years experience in the consumer electronics industry. Their complete line of award- winning products are globally distributed in over 15 countries.
Follow us on Twitter, Facebook, Instagram and YouTube @LinearFlux
Press Contact: Sara Trujillo, Trujillo Public Relations, sara@trujillopr.com/ 917.295.5491
Review samples for qualified journalists and bloggers available upon request.