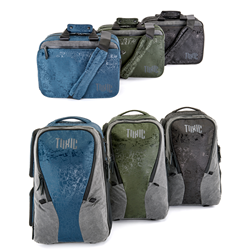 This has been a long time coming, and it's so exciting to launch another brand, eleven years after I brought 3 Legged Thing to the world. I have much greater aspirations for Toxic, and we're already working on an entire range of bags...
STAGSDEN, England (PRWEB) October 04, 2021
Morally Toxic is the culmination of five years' development and innovation in carryology. Launching with a pair of camera bags to suit all types of photographer, the Toxic brand brings together British design, coupled with a fusion of alien and reptilian design concepts.
The brainchild of 3 Legged Thing founder, Danny Lenihan, Morally Toxic is a bold approach in a market saturated with staid and corporate designs. This dystopian collection is a callback to the origins of 3 Legged Thing, with iconic artworks and a design intensity which rips up the rule book, drops it in acid, and launches it into oblivion.
So why the name? Morally - because the company aims to achieve the highest standards, whilst ensuring working conditions in partner factories are indicative of their values, and the workers are treated with respect. Manufacturing processes minimise waste, and limit the use of plastic content, and where possible, source recycled ocean plastics. Toxic - because the brand challenges the dull, corporate-looking aesthetic of traditional bags. The brand is a corrosion of conformity – designed to handle the rigours of professional use and provide effortless workflow and innovative organisation, and do it with style. Morally Toxic bags are for photographers of all shapes, sizes, ages, genders, colours, and cultures.
"This has been a long time coming, and it's so exciting to launch another brand, eleven years after I brought 3 Legged Thing to the world," said Danny Lenihan, CEO and Founder, Morally Toxic & 3 Legged Thing. "I have much greater aspirations for Toxic, and we're already working on an entire range of bags for hiking, gym, kit bags, fashion and any number of other bags that you see every day on the high street. I've spent five years working on the initial designs, honing and redesigning to optimise everything, from the aesthetics, to the workflow, to security and protective innovations."
Morally Toxic bags aren't simply about aesthetics. The first two bags – the Valkyrie camera backpack, and Wraith messenger / sling bag - feature a variety of innovations, along with smart organisation, premium comfort and luxurious fabrics to create ultimate functionality and ease of use.
Each of the bags is available in two sizes and three colours – Onyx, Emerald, and Sapphire - and they offer choices beyond the standard "let's make everything black" ideology.
Setting them apart from other bags, Valkyrie and Wraith boast a range of innovations seldom seen in camera bags including the 'Frog' pocket, a water-resistant wet/dry pocket that gives users a place to stash wet gear away from precious electronics. Internally consideration has been given to all the smaller items photo and video makers need to carry. To solve this Toxic has created Pocket Dividers - bag dividers with integrated pockets that ensure cables, cloths, filters and the like can be stowed separately.
Both bags are constructed from premium fabrics including Morally Toxic's own unique jacquard, which combines a vintage map of our home village, Stagsden, with a reptilian print. Due to the woven pattern, and the way the fabric is cut to tesselate, this means each bag will be unique.
Toxic's Valkyrie backpack is available in Medium (20L) and Large (25L) sizes. With quality YKK standard or Aquaguard zippers on all compartments to keep gear secure, there's even a secret stash pocket to stow money or a passport.
The Valkyrie backpack has a soft-touch protective padded pocket for laptop or tablet carry – up to 13" in the medium and up to 15" in the large bag, that keeps them separate from the main interior space.
Externally Valkyrie is built for comfort as the rear fascia features a 3-point, air-flow back support system, with cushioned lumbar and scapula pads, designed to allow air to flow freely, keeping users' backs cool. The shoulder straps have been contoured to fit all body shapes and sizes, and feature thick, comfortable padding with air-mesh. They feature both horizontal and vertical webbing, for attachment of accessories. An adjustable chest strap adds security, and detachable padded waist straps are included for comfort, and security on more challenging terrains.
Valkyrie can carry even more gear on the outside, with built-in tripod carry straps and retaining loop to hold the legs together when walking. All straps stowaway when not needed. A roomy side pocket can carry a drinks bottle or small marsupial.
Wraith is a camera messenger / sling bag that challenges conventional design, and is available in Medium (15L) and Large (20L) sizes. The bag's front flap protects the two organiser pockets, that have counter-flow zips to prevent side access or theft and houses a hidden pocket for those valuable items like cash and passports.
At the rear of Wraith is the laptop pocket, with corner access YKK Aquaguard zipper. The rear panel also houses a luggage strap, for connecting to suitcases or roller bags. The side of the bag features a mesh pocket for a water bottle or flask.
The shoulder strap is made of woven nylon webbing, smooth and tactile, with easily adjustable length, and finished with a detachable shoulder pad, with air-mesh and silicone grips. It has a choice of side or rear attachment points to enable use as a messenger or sling style bag. All D-rings and hardware are Duralock nylon and designed to withstand the rigours of every day professional use.
Valkyrie and Wraith are available to pre-order now with an introductory 20% discount via MorallyToxic.com and select retailers. Products will be shipped and in-store from 1st November 2021 onwards.
Wraith has a suggested retail price of £169.99 / US$209.99 / €166.66 (Medium) and £179.99 / US$219.99 / €174.99 (Large)
Valkyrie has a suggested retail price of £259.99 / US$299.99 / €249.99 (Medium) and £269.99 / US$309.99 / €258.33 (Large)
## #
Headquartered in a converted chicken shed (Chicken Shed 2: Dawn of the Shed) on Kinsbourne Farm, in Stagsden, England, Morally Toxic is a small, team of passionate people, creating and innovating bags for all people, and is the twisted step-sibling of British tripod manufacturer, 3 Legged Thing.
If you would like more information about this press release, please contact Marketing on +44 (0) 1234 828834 or email at marketing@morallytoxic.com