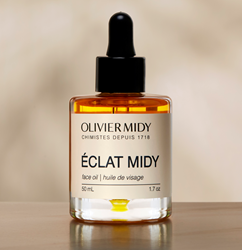 "Every element of our skincare line embraces quality and innovation. From the scientific approach which includes our use of plant-based ingredients and safe synthetics to our packaging, a symbol of style, sophistication, to our iconic name, which is recognized all over." - Olivier Midy, Founder
LOS ANGELES (PRWEB) November 17, 2021
Olivier Midy, a descendant of the oldest pharmaceutical family in the world, announces the launch of a new clean, clinical, and vegan skincare line under his own name, Olivier Midy, LLC. The brand's premier product is a multi-correctional face-oil called Éclat Midy.
The original "Laboratoires Midy" was founded in 1718, by Olivier's great grandfather, François Midy, an apothecary surgeon. Olivier created the eponymous skincare line to pay homage to his rich family history. "We are a trusted family name that dates back over 10 consecutive generations; this brand, the products, and the science behind it celebrate over 300 years of innovation," said Midy.
As with his family's original company, research and innovation are the hallmarks of the brand, which focuses on safe and effective skincare solutions that utilize plant-based technology. Every ingredient follows the strictest standards for skincare safety, as set forth by the EU, for results that deliver and are truly healthy for your skin.
"Every aspect, every element, and every step of our skincare line embraces quality and innovation. From the scientific approach which includes our use of plant-based ingredients and safe synthetics to our packaging, a symbol of style, sophistication, to our iconic name, which is recognized all over the world," said Midy.
Olivier Midy's first product, Éclat Midy, is formulated with 18 seed oils and plant extracts. This nutrient-rich oil helps restore skin's vitality and boosts healthier, more radiant-looking skin. Using extracts from Meadowfoam, Sea Buckthorn, Moringa, Microalgae, and Sandalwood the formula is powered by the rare Omega 7 and Omega 6, known for their regenerative properties. The golden-hued oil also gains powerful properties from Astaxanthin, which is 800 times stronger than COQ10, and 6000 times stronger than vitamin C, helping increase cell turnover, restore elasticity, and increase collagen synthesis. Rich in antioxidants, the oil also acts as a strong anti-inflammatory agent, fighting free radicals, blemishes, and dark spots. This crafted blend is true nutrition for your skin, helping it look and feel its best.
Éclat Midy and all Olivier Midy products will be available exclusively from the brand's website, OlivierMidy.com
About Olivier Midy
The Midy name is synonymous with the Parisian aesthetic and scientific innovation. Labatories Midy was originally founded in 1718 by Francois Midy, an apothecary surgeon who advanced the use of biological actives in exotic plants from around the world by harnessing their healing properties. With his work, Francois Midy created France's most recognized pharmacy—and laid the foundation for today's modern pharmaceutical industry.
Seven subsequent generations later, Olivier Midy is carrying on his family's legacy with his eponymous skin care line: Olivier Midy. Everything from the packaging to product design will honor the Midy legacy of tradition, science, and innovation.
About Éclat Midy
Éclat Midy is Olivier Midy's first product, a gender-free, nourishing oil that helps restore skin's health and vitality, instantly transforming a dull complexion into healthier, more radiant-looking skin. With clean, plant-based, and anti-aging ingredients, its power-packed formula helps lock in moisture, improve elasticity, and increase collagen synthesis. And because it's rich in antioxidants and acts as a strong anti-inflammatory agent, it fights free radicals, blemishes, and dark spots.
About the Founder
Born in Paris, Olivier Midy moved to Aspen at a young age where he was raised an avid skier, hiker, and outdoorsman. He began his career as an art dealer working primarily with contemporary artists. Wanting to pay tribute to his father who passed away when he was little and taps into a storied family heritage he always knew was there, he was inspired to deepen his research on the Midy family name and launch a new skincare line in the tradition of their original french pharmaceutical company, Laboratories Midy. After spending years studying history and formulations and tracking down artifacts from the original company, Olivier Midy was born as a way to honor and pass on this rich, family legacy to his daughter.
Press Contact: OlivierMidy@thenumber29.com
OlivierMidy.com // IG: @maisonmidy