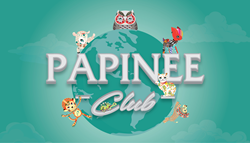 This is a show for families by families, and beyond providing a set of fun, educational and interactive activities, it shows kids and parents alike that they are not alone and that we are stronger together. Our main goal is to inspire them to learn, laugh, and love.
LOS ANGELES and HONG KONG (PRWEB) May 09, 2020
PAPINEE, the progressive children's storytelling company, is excited to launch Papinee Club, a groundbreaking community initiative which seeks to provide parents with a comprehensive toolkit and engaging content to help their young children cope with the extraordinary psychological and emotional stresses created by the global Coronavirus pandemic.
Amidst the massive change in our daily lives and the high degree of uncertainty regarding the future, many parents are struggling to find meaningful and positive ways to help their children through this unprecedented crisis. "This is a very stressful time for families; isolated at home, parents need to juggle working remotely, helping their kids with distance learning, not to mention keeping everyone healthy and positive. Kids are unable to go to school, see their friends, play outside, waiting for things to go back to normal," Dev Suj, the founder of PAPINEE, on the genesis of the project, "It took me back to my childhood when my mother was sick and we couldn't leave the house, much less travel. But through her incredible imagination, she told us many fantastic stories of animals that ruled the planet; we visited exotic countries around the world, and it gave me hope."
In response to this unprecedented crisis, Papinee Club was created to engage, educate and inspire children – from three to 8 years old – in these trying times. At the core of this ambitious public service initiative is a new original weekly video series which premieres today on YouTube. Each episode runs 15-20 minutes and showcases a carefully planned range of activities from yoga and mindfulness to art, music and dance expression; nutrition, craft and stories that parents and children can do together; it is also accompanied by the Papinee Passport – a downloadable collection of activities to provide an educational, interactive and communal way to keep children engaged throughout the week.
Addressing diverse themes such as gratitude, courage, resilience and acceptance, each episode takes families on a journey around the world, ignites their imagination through creative storytelling and encourages family bonding through joint activities. Ultimately, Papinee Club's simple yet powerful message of universal love and respect seeks to reassure children of brighter days ahead, encourages dialogue and sharing, and provides helpful tips and suggestions for children to cope with the stresses brought forth by the pandemic.
"Children have gone through a lot recently; it is important to talk to them, and provide an open and nurturing forum to express, understand and manage the different feelings they might be having," explains child psychologist, Dr. Monica Ghaliani, who also served as an advisor to the show. "It's also important to help them find joy, feel connected, and also to have fun. Laughter and optimism are powerful and will go a long way in making them feel safe and less afraid."
Each episode's segments are animated by real families and volunteers from different parts of the world who find themselves in very similar circumstances. Sharing their unique talents and experiences, they provide an authentic and differentiated window into different cultures and reinforce the concept of a global community coming together in support of each other. With restrictions on travel likely to continue, Papinee Club brings the world to its young viewers to plant the seeds of curiosity, cultivate the joy of exploration, and inspire a sense of wonder and discovery.
"With the world essentially shut down, we had to be extremely innovative, creative and resourceful in how we created this show," explains Suj. Conceived and created in less than 14 days due to the urgency of the crisis, the entire production - from developing the original script, creating bespoke toolkits and step-by-step instructions for participating families, to editing and animation - was managed remotely and volunteer-led. "We had to find the entire creative and production team, enlist all our friends to help, and it is mind boggling how everyone and everything just came together; we were all unified in our desire to get kids to understand that everything is OK, and that we are going to make the world better, together."
The pilot features 5 families and characters from all walks of life and different corners of the globe – Telluride and Los Angeles in the US, Portugal, Turkey and Thailand - each united in their desire to share their story and talents to comfort and help others. "This is a show for families by families, and beyond providing a set of fun, educational and interactive activities, it shows kids and parents alike that they are not alone and that we are stronger together. Our main goal is to inspire them to learn, laugh, and love unconditionally because that is what Papinee is about - unconditional love."
The inspiration behind PAPINEE originated many years ago from a mother's unconditional love for her child - sparking joy, curiosity and confidence through imagination, fun and play. The company was founded as a social enterprise to educate and inspire children to become respectful, responsible and compassionate global citizens of tomorrow. Its proprietary WHIGZ curriculum (World, History, Imagination, Geography, Zoology) draws inspiration from Montessori, STEAM as well as the centuries-old craft of storytelling; its mission is to awaken a sense of curiosity, encourage respect for the planet and promote the values of universal love and human connection through the eyes of its animal characters from across the world: 'RESPECT, CONNECT, PROTECT.' Best known for their exceptionally crafted heirloom-inspired toys, interactive storytelling kits with a strong emphasis on education and pop-up amusement parks throughout Asia and Europe, Papinee Club brings its signature animal characters to life, animated on screen and online for the very first time; it also represents the brand's first introduction to the US.
"This project has grown organically and has been sustained by the passion and tireless dedication of our network of volunteers; we are working at light speed to complete it as the need is so urgent and the current situation so extraordinary and universal," says Suj. "We are incredibly humbled by the reception of the concept and the generosity of volunteers from around the world who helped to create the pilot. This is what motivates us to work even harder and faster, and hopefully when this crisis is over, the lessons we have taught will continue to inspire."
Six additional episodes are currently in development with new episodes released every Saturday on its Youtube channel (http://bit.ly/PapineeClub) . Full episodes, individual segments and the Papinee Passport are also available on Papinee.com.
Papinee Club premieres Saturday May 9 @ 10am (UTC) on bit.ly/PapineeClub
Hong Kong
Saturday, May 9
4am
New York
Friday, May 8
4pm
Los Angeles
Friday, May 8
1pm
About Papinee
Papinee began many years ago with a mother whose ill health restricted her ability to travel and against all odds wanted to give her son the world. She converted their living room into the Pyramids of Giza, the Savannas of Kenya, the Taj Mahal and would take him to incredible lands with the most fantastical Animals through imaginative storytelling and play. And every Sunday they would visit local children's orphanages where she would share stories with the kids, educating & inspiring them with ideas… She told each child that they were exceptional and brilliant and that they should reach for the stars; she whispered in each and every-one's ear her magical word that represented 'unconditional love,' 'you are my PAPINEE.'
Today PAPINEE is a Storytelling Company educating, inspiring and empowering families to respect everything, connect with everyone and protect the planet collectively. Educating them about the world, history; using imagination to teach geography, zoology (W.H.I.G.Z) and more through their unique Learn, Laugh, Papinee (unconditional love), storytelling system.
PAPINEE started with Storytelling Kits and these empowered every adult - be it parent, teacher or volunteer storyteller, to take children on magical learning journeys with the animal characters and stories from different countries. And also a Social Enterprise: for every PAPINEE Storytelling Kit sold, PAPINEE gives a Storytelling Inspire Kit to a child in need; working with volunteer storytellers worldwide to reach out to orphanages and children's homes so that ALL kids can 'Learn, Laugh and feel Papinee (unconditional love)' and be empowered to soar the skies.
All PAPINEE products, experience projects, pop-up amusement parks, strategic partnerships encourage 'togetherness' letting adults and children turn their moments together into memories forever. Past projects range from taking over Harrods London with 24 windows on Brompton Road to converting China's most important mall Xintiandi into a Pop Up World Expo to collaborations with partners such as Louis Vuitton, Make a Wish Foundation, Four Seasons, Financial Times, the government of Dubai, Changing Young Lives Foundation, HSBC, MTRC, Gucci, Society for Protection of Children and more.
For more information, please visit http://www.PAPINEE.com
Connect with us: Facebook, Instagram @Papinee
# # #
Media Contacts:
North & South America
Kate McLamb
kate.mclamb@gmail.com
+1 (757) 651 2218
Europe & Asia
Rob Cheng
robcheng2@gmail.com
+852 9741 7171