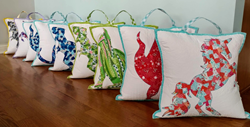 "Pixie Quilts are bright cheerful inspiration pieces for the modern nursery."
INDIANAPOLIS (PRWEB) January 24, 2019
Free-motion quilting artist Diane Lockman announced the official Grand Opening of Pixie Quilts, her new online baby lifestyle brand, known locally since January 2018 for creating irresistibly cute baby gifts and personalized nursery decor.
"I stitch playful stories and magical make-believe into every product so you can have fun decorating bedrooms that grow up with your children ... happy places you'll love now and for years to come!"
Diane's signature baby quilts, receiving blankets, and reading pocket pillows are bright, cheerful inspiration pieces for the modern nursery. Unique free-motion quilting designs spark the child's imagination while chenille trim provides texture to self-soothe the anxious toddler. Personalization not only reinforces the child's identity, but also teaches spelling.
While entertaining, comforting, and teaching kids are key company values, Diane also really enjoys inspiring and encouraging moms to "seize the day." Years ago when her son was born with a fatal birth defect, Diane was devastated. A sudden turn of events changed her worldview and the way she parented.
"Slow down, laugh, listen, play, and give lots of hugs! Make love your priority."
Ready to expand the retail reach of her local quilting studio, Diane is positioning Pixie Quilts as an online market leader in luxury handmade baby bedding and nursery accessories. Her exclusive, limited edition designs are pieced, stitched, and quilted in the USA. Premium 120 thread count quilting cottons and 100% natural cotton batting are sourced from certified mills, free of harmful chemicals, and are safe for baby use.
Diane is currently producing "Rocket Rollick," a 10 piece outer space-themed collection which will include an "inside-out star" designer quilt, receiving blanket, and reading pillow. Prior collections featured classic quilting patterns like pinwheels, triangles, buffalo checks, and herringbone.
Diane has been designing and sewing costumes and home decor for 40+ years. She is an at-large member of the internationally acclaimed Modern Quilt Guild and Vice President of the Indianapolis Mudsock Quilters Guild.
For more cheerful inspiration: pinterest || instagram || facebook || etsy