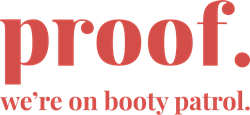 LOS ANGELES (PRWEB) April 22, 2020
proof®, a female empowerment company, launches its new line of leak-proof, period-proof, worry-free undies today. This new venture from the founders and sister-preneurs of Belly Bandit®, a recognized leader in the maternity industry, delivers meticulously designed and expertly constructed leak-proof undies for women ages nine to ninety.
This premier range of functional intimates, designed by three sisters known for their award-winning solution-based products, utilizes their patented leak-loc™ technology to ensure reliability. proof® is the first leak-proof underwear that is really (really) leak-proof.
Through years of development and comparison tests, proof® has consistently outperformed its competitors. The leak-loc™ technology combines ultra-light and breathable layers of leak-proofing plus leak-loc™ edges to ensure fluids can't escape. Vital antimicrobial fibers and innovative absorbent and moisture-wicking liners trap in moisture, keeping women dry and comfortable. The clever designs and no-show fit, give proof® undies an edge in both style and peace of mind.
"We're committed to creating products that instill confidence and actually work," said Jodi Caden, Co-founder of proof®. and Belly Bandit®. "We tried so many leak-proof undies, and none of them did the job! We wanted proof® underwear to completely lock in leaks and keep women dry. We're thrilled that our proprietary technology ensures women of all ages will stay protected and comfortable."
The first collection of proof® includes five absorbency levels from super-light to super-heavy. For example, the Everyday Undie handles life's little leaks and holds half of a regular tampon or teaspoon of liquid. The Hipster Panty can hold up to five tampons or ten teaspoons of liquid, the most fluid absorption out of any underwear on the market.
From managing a period, pregnancy, or new-mom life, to dealing with sprinkles or sweat, women can rely on the security of proof® to provide a dry, safe and eco- friendly feminine hygiene solution. More affordable and earth-friendly than traditional pads and tampons, which can take up to 500 years to decompose, proof® undies can relieve the need for sanitary pads, making it an excellent solution for women and the environment.
The debut line of proof® is available for purchase exclusively at shopproof.com and on bellybandit.com. The underwear comes in sizes XS-XL and includes seven silhouettes in both black and sand colors, with prices ranging from $25-$43 USD.
For women who laugh a bit too hard and feel a surprise leak, or girls nervous about starting their period, there's a proof® solution. Leak less. Live more.
Get social and see the proof®, follow @shopproof on Instagram.
About proof®
proof® is a female empowerment company, founded by the "sister-preneurs" of Belly Bandit®. Their mission is to provide an innovative line of leak-proof, worry-free underwear that empowers women to leak less and live more! With a history of disrupting and revolutionizing the market, the sisters and co-founders of proof® and Belly Bandit® create products that make women's lives better. Now let them show you proof®.
Media Contacts:
Sara Strasbaugh
Godfrey Sanders PR (for proof®)
Sara@godfreysanderspr.com