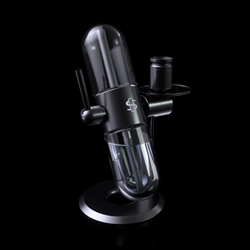 LOS ANGELES (PRWEB) July 07, 2020
A time honored tradition dating back to the 16th century is reimagined as a contactless experience for today through industrial design and fluid flow physics with the introduction of Stündenglass. A versatile hookah, Stündenglass features a patented 360 degree gravity system that elicits an immersive and powerful experience without having to share contact by generating kinetic motion activation via cascading water, opposing airflow technology and the natural force of gravity. Stündenglass launches on July 10th at stundenglass.com.
"Throughout history, from the invention of the hookah to the gravity bong, imaginative smokers have been using their ingenuity to create coveted smoking devices," said Tracey Huston, founder of Stündenglass. "With ritual, pleasure and durability in mind, I engineered Stundenglass using pure physics to deliver the most smooth, consistent and vaporous draws."
Stündenglass, which means "hourglass" in German, features two borosilicate glass globes that sit on either side of a sleek metal base made of aircraft grade aluminum, surgical grade stainless steel, and high quality Teflon seals. It features gravitationally delivered water filtration: once the bottom chamber is filled with water and the other with smoke, the device is flipped, pulling the water through the two way aluminum steel upstem and pushing smoke out, delivering a contactless experience. The strength depends on how far the unit is flipped, using gravity to control the ignition of materials and output of smoke.
Stündenglass Features:

Contactless smoke delivery system
Precision machined hardware
Percolated water filtration
45° adjustable mouthpiece
Aluminum hookah bowl kit and a glass bowl
Connects to any smoking or vaporization device with a 14mm male joint
3-foot silicone hose that can be connected for direct draws
Versatile design for multiple use with hookah, flower, oil accessories
360 Rotatable activation
Removable glass globes that are durable and dishwasher safe
A patented design backed by an extended 10-year warranty*, the Stündenglass Gravity Hookah comes packaged in a reusable craft box with a handle, allowing for safe storage and transportation. Super durable, futuristic in design and superb in function, the Stündenglass Gravity Hookah stands alone at the pinnacle of smoking and vaporization devices. Stündenglass retails for $499.95 and is available to purchase via Sezzle with 4 Interest Free payments beginning July 10th at stundenglass.com.
About Stündenglass
Forward thinking functionality, precision craftsmanship and a transformative design aesthetic establish Stündenglass as the defining smoking culture piece. The patented 360 degree system is the first-of-its-kind gravity hookah water pipe revolutionizing consumption through design and physics - leading the industry forward with an immersive experience. Established in 2012 by Tracey Huston, a self taught inventor, Stündenglass provides the most powerful and efficient smoke filtration experience without a battery or motor, using simply pure fluid physics. Visit https://stundenglass.com.
For inquiries, please contact:
Grenco Science media inquiries
Georgia Mack
917.916.6083
georgia@riopr.com