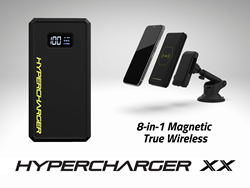 We combined eight accessories and technologies to create one simple and elegant solution, the HyperCharger XX™. It takes up where Apple's new MagSafe technology leaves off, for the next level of magnetic true wireless charging."
SAN FRANCISCO (PRWEB) November 20, 2020
LinearFlux, an emerging leader in mobile accessories, is proud to announce the launch of its CES Innovation award-winning HyperCharger XX™ – the world's only 8-in-1 wireless portable power and magnetic mounting solution (SRP: $59.99). The HyperCharger XX™ is the latest in a line of high-performance mobile chargers developed by LinearFlux. Using a combination of advanced proprietary charging and magnetic mounting technologies with innovative design and lifestyle features, the HyperCharger XX™ is the one phone accessory that users will not want to live without.
Versatile in Design, Use and Convenience
Designed for both Apple and Android phones, the HyperCharger XX™ features a variety of ports and technologies to power up devices. It can charge any smartphone and device with Qi-wireless charging technology including Apple iPhones from Generation 8 to the new iPhone 12. Unique to the HyperCharger XX™ is its ability to magnetically snap to any smartphone, desk or car magnetic mount. It also features a vibrant LED display that indicates the battery capacity and when it is in HyperBoost mode for rapid charging.
Notes LinearFlux CEO and co-founder, Einstein Galang: "In today's gadget-driven world, we're striving for the best combination of simplicity, top performance, and sustainability. When we design our products, we prioritize ways that we can minimize waste. We know, for instance, that each year E-waste is globally disposed of in the hundreds of tons. So we combined eight accessories and technologies to create one simple and elegant solution, the HyperCharger XX™. It takes up where Apple's new MagSafe technology leaves off, for the next level of magnetic true wireless charging."
Best-in-Class Power
The HyperCharger XX™ utilizes LinearFlux's award winning HyperCharger™ technology featuring a USB-A port with QC3 and a USB-C input/output port with PD. These advanced HyperBoost power technologies charge most current smartphones from 0 to 50% capacity in under 25 minutes. In a pinch, a tablet or laptop can even be charged using the USB-C port! Last, but certainly not least, is the 15 Watt Qi-wireless charging capability and the 10,000mAH of capacity that provides up to 5X full smartphone charges. It is simply the fastest true wireless charging technology available today.
Best-in-Class Magnetics
Among the many features that sets the HyperCharger XX™ apart is the built-in magnetics to keep smartphones wirelessly charging in place. Included in the package are alignment plates that enable the HyperCharger XX™ to be mounted to a limitless number of smartphones. No more tangled cables -- a truly hassle-free charging experience!
Recharging is also made easy with the LinearFlux HyperMAG cable. It magnetically connects itself for a secure charging connection. LinearFlux designed the HyperCharger XX™ so users can simultaneously charge their phones and the charger itself, so when it is plugged in at night, everything is fully powered and ready to go by morning.
The LinearFlux HyperCharger XX™ measures 5.5"L x 2.75"W x 0.75"D and weighs 9oz. Available in black (SRP: $59.99), the HyperCharger XX™ includes both a HyperMAG Magnetic Charging Cable and Alignment Plates. LinearFlux products are now available at LinearFlux.com, Amazon.com, GameStop, Sam's Club, and Walmart.
Founders Einstein Galang and David Leung launched LinearFlux in 2014. As proven technology innovators and product designers, together they led the development team behind the hyper-successful Beats® by Dr. Dre headphone brand. Holding educations in Engineering, they worked in and managed product development which included all Engineering and Design at Monster Products.
About LinearFlux
Headquartered in San Francisco, LinearFlux™ is committed to designing, engineering and manufacturing mobile accessories that far exceed consumers' everyday needs. Its first product, LithiumCard™, established the industry benchmark for ultra-fast charging, using the proprietary Hypercharger™ technology. Today, LinearFlux offers two lines of mobile products, HyperChargers™ for power/accessories, and HyperSonic™ for audio. Founded in 2014, LinearFlux has back to back CES Innovation Wins from a team that consists of over 30-years experience in the consumer electronics industry. Their complete line of award- winning products are globally distributed in over 15 countries.
Follow us on Twitter, Facebook, Instagram and YouTube
Review samples available for qualified journalists and bloggers upon request.