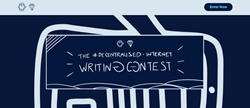 Anyone can enter the Decentralized Internet contest by writing a story with the #decentralized-internet tag on HackerNoon.
EDWARDS, Colo. (PRWEB) April 01, 2021
HackerNoon and Free TON have teamed up to launch the decentralized internet writing competition. Anyone can enter the contest by writing a story with the #decentralized-internet tag.
Free TON is a new blockchain platform created by the developers of the Telegram Open Network (also abbreviated TON), and they recently became known for The Declaration of Decentralization.
HackerNoon will be awarding $3,500 in price money each month through the end of 2021. Anyone who publishes on the #decentralized-internet tag will be entered to win a monthly prize.
"While Free TON is sponsoring this contest, HackerNoon is technology agnostic and we are open to any and all story submissions that cover the who, what, when, where, why and how of decentralizing the internet," said CEO David Smooke in a HackerNoon post. "I've said it before and I'll say it again and again: less dependency on central entities is essential for the internet to mature into a technology that works for the people using it."
This is HackerNoon's second writing competition this year following the #Velo by Wix contest which kicked off in March.
Additionally, HackerNoon will be hosting the Free TON developers team for a webinar: What happened to the Telegram Blockchain? on April 2 to discuss and gain an insight into the nitty-gritty of the software giant and its divorce with the Telegram Open Network (TON).
HackerNoon has published tens of thousands of tech stories about blockchain, cryptocurrency, decentralization, bitcoin, and more.
How hackers start their afternoons. Hacker Noon is built for technologists to read, write, and publish. We are an open and international community of 15k+ contributing writers publishing stories and expertise for 3M+ curious and insightful monthly readers. Founded in 2016, Hacker Noon is an independent technology publishing platform run by David Smooke and Linh Dao Smooke. Start blogging about technology today.