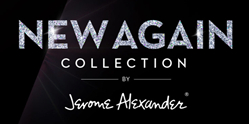 "Every woman deserves to feel beautiful." - Jerome Alexander, Celebrity Makeup Artist & Expert
LOS ANGELES (PRWEB) September 30, 2020
Jerome Alexander Cosmetics® releases the " New Again Collection," a new collection of palettes and brushes inspired by Jerome Alexander's original coloring brush sets introduced in the 1970's with a fresh, contemporary twist. In 1976 Jerome Alexander conceived the revolutionary idea of developing professional cosmetics brushes and applicators for home use. Alexander then integrated these tools into "cosmetic kits" with makeup palettes so women had the makeup and tools necessary to apply their own makeup like a professional makeup artist. Through his work as a celebrity makeup artist, Jerome Alexander instinctively knew how to make women feel beautiful and he sought to empower women across the globe to create their own best look.
The New Again Collection pays homage to the company's roots with re-imagined palettes and tools that are both affordable and high quality. Jerome Alexander truly believes that every woman can be their own makeup artist and in his own words, "makeup doesn't need to be expensive to work."
The New Again Collection includes:
Tool Sets

10-piece ($49)
5-piece ($20)
"Best Selling" Jumbo MagicMinerals Powder Foundation ($36) the original MagicMinerals powder foundation has been a success for the past 15 years and has sold over 5 million units. This jumbo version presents the original formula in a super-sized, mirrored compact that is nearly twice the size of the standard compact, with a beautiful professional powder brush.
Blusher Palette ($36)
Eyeshadow Palettes ($36)
Highlighter Palettes ($36)
Lipstick Palettes ($36)
To learn more about the history of Jerome Alexander Cosmetics, check out the new documentary short film called "THE MAN BEHIND THE MAKEUP." It chronicles Jerome's Alexander's life, 50+ year career and how he changed the beauty world forever.
About Jerome Alexander: Celebrity makeup artist. Cosmetics industry innovator. TV personality. Beauty educator. For 50 years, Jerome Alexander has brought out the beauty in women by teaching them to be their own makeup artists. He has introduced professional beauty products into the homes of women across America and around the globe. His revolutionary MagicMinerals AirBrush products are redefining beauty by providing women with high quality "skincare makeup" for healthy, glowing, flawless skin at affordable prices. "Every woman deserves to feel beautiful." - Jerome Alexander.