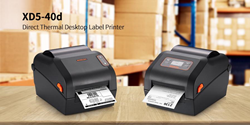 GARDENA, Calif. (PRWEB) February 19, 2020
BIXLON America a leading global Mobile, Label and POS Printer manufacturer today announced the launch of its NEW XD5-40d desktop label printer featuring space-saving design with high performance features, next level usability & an efficient management system.
The 4-inch direct thermal XD5-40d printer is equipped with the latest fastest and secure wireless connectivity; WLAN or Bluetooth, so wireless peripherals such as scanners can parse data to the printer. The XD5-40d can connect to a wired or wireless network – 10/100 ethernet or WLAN 802.11a/b/g/n. Simple out of box setup is ensued thanks to easy media loading of its compact design with adjustable sensors and real time calibration across a range of receipt, labels, tag or wristband media. The Xd5-40d offers easy integration with availability of windows, OPOS, Linux and Mac drivers, plus development of your own applications via a suite of SDKs, and it's backed by a class leading two-year warranty.
The XD5-40d provides compatibility with label design software; BIXOLON's label artist™ and Seagull's BarTender®, as well as fast processing and print speeds up to 7ips and extended memory space up to 256MB SDRAM, 256MB Flash. In addition, the new XD5-40d also offers a field installable peeler and auto cutter & supports Twin Function™ copy printer setting and data used by USB, SNMP enabled WLAN functionality. The XD5-40d also provides XPM™ supported web-based printer profile management solutions for all deployed printers.
This compact 4-inch direct thermal XD5-40d provides a performance feature set supporting multiple media types. The printer has optional high resolution and LCD display options. 300dpi for output and LCD display for easier setup and use, it will also notify the user with QR Code that links to model specific support pages.
"We are very proud to have expanded our label printer's portfolio by bringing the XD5-40d into the market," cites Paul Kim, General Manager of BIXOLON America. "This desktop label printer is expected to support in improving efficiency and productivity, while remarkably reducing Total Cost of Ownership due to its integrated data input capability, compact design and highly enhanced manageability."
For more information visit BixolonUSA.com subscribe to blog.bixolon.com, or alternatively speak to your local BIXOLON sales representative.
About BIXOLON
BIXOLON is a leading global manufacturer of innovative, advanced printing technologies including point-of-sale receipt, label, Auto ID and mobile printers for a wide range of environments. Millions of BIXOLON printers are used today in retail, hospitality, healthcare, banking, ticketing, post/parcel, warehousing and other transaction-intensive industries. In 2019, for the sixth consecutive year BIXOLON was named global mobile receipt printer market leader by Japanese research company Chunichisha.