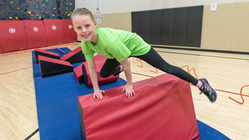 "The Hijinx Ninja Course will spark excitement in kids of all ages,"
MINNEAPOLIS (PRWEB) May 16, 2019
Unparalleled innovation is a consistent theme at Everlast Climbing. To complement their successful line of climbing products, the company has developed a brand-new line of "ninja-style" products that guarantees to keep children of all ages engaged and having fun, while also participating in beneficial physical education. The popularity of ninja obstacle course television shows has grown in recent years, and children will love to be able to experience a similar course for themselves. "The Hijinx Ninja Course will spark excitement in kids of all ages," stated Tim Sudeith, General Manager of Everlast Climbing. "It's the perfect addition to our product line and will motivate kids to be physically active."
The Hijinx Ninja Obstacle courses come in four different packages with varying supplies designed to target specific age ranges from 5 to 18. All of these packages are ideal for schools, camps, or even children's parties. Each course is versatile and can be designed in an endless number of different ways, so the kids can complete a different course each time. Kids, tweens, and teens will all find these courses to be an engaging challenge that promotes fitness in an enjoyable way.
About Everlast Climbing
Everlast Climbing is committed to improving youth fitness with dynamic and innovative products that engage children and inspire physical activity. The company is headquartered in Minneapolis, MN, and is a PlayCore company. More information is available about Everlast Climbing at http://www.everlastclimbing.com.