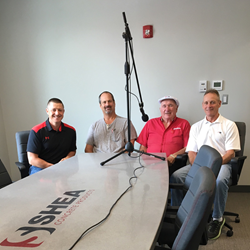 We will tell our story, we will do our best to educate and share our knowledge... and continue to push the envelope and be a leader within the precast concrete industry to ensure it continues in the right direction.
AMESBURY, Mass. (PRWEB) August 28, 2018
Shea Concrete Products is proud to introduce The Precast Podcast, an audio account of the company's evolution from a humble Massachusetts precast concrete supplier to a national leader in the precast concrete industry.
Listeners are invited to join company leadership on a look back at the company's almost 70-years of storied history, as well as a deeper dive into goals, plans, and aspirations for the company as they look forward to the decades ahead.
The purpose of The Precast Podcast is to further solidify Shea Concrete's relationship within the precast concrete industry and make new relationships with people and entities Shea Concrete has not yet reached through existing marketing and outreach strategies.
The first four episodes of The Precast Podcast can now be found, heard, and downloaded through iTunes, Spotify, and Stitcher. All episodes (along with transcripts) can also be found on the Shea Concrete Products website.
Headquartered within a new, LEED-focused facility in Amesbury, MA, Shea Concrete Products is a National Precast Concrete Association (NPCA) Plant Certification Program participant and supplies products to customers throughout the northeast. Producing the highest-quality precast concrete products and providing industry-leading customer service has always and will always remain our primary focus.
Thank you for supporting The Precast Podcast and please keep an eye out for future episodes!