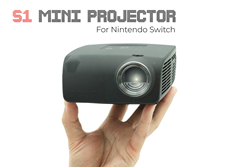 IRVINE, Calif. (PRWEB) October 16, 2018
AAXA Technologies announces the launch of its S1 Projector Dock – a mini projector dock compatible with the Nintendo Switch ™ and a variety of Android phones including the Samsung™ Galaxy 9 phones.
The AAXA S1 Mini Projector transforms the Nintendo Switch™ from a 6" single-player screen to an enormous 100" multi-player screen that is portable – allowing gamers to game anytime, anywhere. This alchemy is accomplished through a high-powered native 720P (1280x720) pico projector engine based on Texas Instruments DLP technology and brilliant 30,000 hour LEDs. The S1 houses powerful 2-watt stereo speakers and a robust 52-watt battery system that allows for 3 hours of continuous game play (when the Switch is fully charged) or charging the Switch when docked (and in standby mode). All of this is built into a truly mobile platform at just 6" x 4.5" x 1.9" and weighing only 1.28lbs.
The AAXA S1 Mini Projector Dock is perfect for multi-player games in a mobile environment. The AAXA S1 was conceptualized when AAXA's engineers watched 4 children struggle to play a racing game on a 6" screen at a crowded airport – an endeavor that ended with some shoving and tears. The AAXA S1 solves this problem by providing a mobile big-screen for the Nintendo Switch (and Android phones) allowing all gamers to enjoy playing without eye-strain, neck cramps, or shoving!
AAXA Technologies will be launching a Kickstarter campaign in early October with an aim of getting the projectors to customers by the end of November. Mass production of the S1 is slated for January 2019 and will be available for purchase soon thereafter.
Brilliant Projection Engine
The AAXA S1 Mini Projector Dock incorporates cutting edge pico-projection technology. At its heart is a 720P (1280x720) DLP imager which is more than double the native pixel resolution of the nearest competitor. The S1's light-source features Osram solid state LEDs with 30,000 hour life-spans that are much more durable than lamp-based projectors. With these technologies the S1 is able to deliver a 100" image (dark areas recommended) at 10.5' away.
Massive 52-watt Battery Pack
The AAXA S1 incorporates a massive 52-watt lithium-ion battery system. Designed for high discharge and rigorous charge-cycles, this premium grade internal battery system can support up to 3 hours of gaming for the Nintendo Switch™ making the AAXA S1 a true anytime, anywhere projector dock. The AAXA S1 can also be used to charge the Nintendo Switch (projector must be in Standby mode) up to two full charges.
Twin 2 Watt speakers
The AAXA S1 features twin 2-watt speakers that deliver room-filling sound for superior game play. Tuned specifically for popular Nintendo Switch™ games the AAXA S1 allows truly immersive game-play for 4 or more gamers.
Direct Docking for Switch
The AAXA S1 is designed to securely dock the Nintendo Switch within its cradle and transform its single player 6" screen into a multi-player 100" screen. The S1 was designed with Nintendo™ charging parameters in mind to avoid damage or "bricking" of the Nintendo Switch and carefully engineered to ensure that even high-load games do not overheat the Switch – a problem found in some other docks.
Support for Android Phones
The AAXA S1 is capable of direct (drop-in) mirroring support for a variety of Android phones including the Samsung Galaxy™ S9 and the Samsung™ Note 10. Other android phones can be connected through a USB-C adapter cable. Through the AAXA S1, users can enjoy direct big-screen mirroring support including popular streaming apps such as Netflix, Youtube, Hulu.
*Nintendo and Nintendo Switch are registered trademarks of Nintendo Co LTD Japan. AAXA Technologies is not affiliated with Nintendo or any Nintendo owned company.
*Samsung and Samsung Galaxy are registered trademarks of Samsung Electronics Co LTD Korea. AAXA Technologies is not affiliated with Samsung or any Samsung owned company.
About AAXA Technologies
AAXA Technologies Inc was founded in 2008 as a developer and manufacturer of a new class of projector known as "micro" projectors and "pico" projectors. AAXA's core technology is based on small LCoS (Liquid Crystal on Silicon) and DLP (Digital Light Processing) imagers mated to LED (light emitting diode) and Laser light-sources that makes micro projectors and pico sized projectors possible. In 2010 AAXA launched the world's first laser pico projector and today remains a leader in mini-projector technology. AAXA holds several patents in optical and LCoS designs and manufactures the majority of its products in China, with core technological development occurring in both the Silicon Valley, California and China.