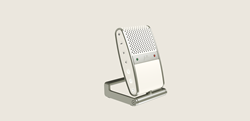 BARCELONA, Spain (PRWEB) September 22, 2020
Today, ambitious audio startup Tula Microphones has unveiled their first product and kicked-off an Indiegogo campaign in support of the launch. The Tula Mic is the first fully portable USB mic that also doubles as a mobile recorder, featuring a nostalgic yet modern design, cutting-edge onboard noise reduction, and high-quality audio.
"The Tula Mic was thoughtfully designed with the modern user in mind," said Tula's Founder and audio industry veteran David Brown. "Whether you're a content creator, podcast host, vlogger, gamer or even a musician looking to capture a quick idea, or just somebody who wants to up their audio game on Zoom, Skype or Microsoft Teams, Tula delivers."
Brown, who also founded the heralded Soyuz Microphones brand, continued, "With high quality audio, advanced noise reduction, ample storage and battery life, and an easy-to-hold form factor, the Tula Mic is the only sound capturing device most people will ever need."
Notable features of the game-changing Tula Mic include:

Ultra-fast USB-C technology
8 GB of internal memory and on board battery, enabling up to 12 hours of high-quality audio recording on the go
Advanced and proprietary noise reduction algorithm
Advanced Digital Signal Processors (DSP)
Cardioid and Omnidirectional polar patterns
3.5mm headphone jack that doubles as an input for a lavalier microphone
Burr Brown op amps for superior audio quality
Responsible manufacturing (snap, screw) for EOL recycling
Nostalgic Yet Chic Design
The Tula Mic boasts an eye-catching design – a true combination of modern and nostalgic aesthetics of a bygone era – that was crafted in conjunction with the Tula Microphones team and Red Dot Award-winning industrial designers out of Barcelona. The Tula's form factor is also built in the golden ratio, allowing for easy handling in any setting. Upon launch, three variants will be available: A sleek black design, a soft cream, and a vibrant red.
Advanced Noise Reduction
Tula Microphones teamed up with well-known Swedish music software company Klevgrand to create an embedded version of their cutting-edge noise-reduction algorithm. With just the touch of a button, users can get rid of unwanted background noise such as fans, air conditioners or even traffic. This, plus the Tula Mics' own internal battery and memory, makes it possible to record remotely for up to 12 hours in high-quality 16bit/48K wav format.
Indiegogo Campaign
Tula Microphones is currently running a fundraising campaign on Indiegogo, where interested backers can choose from several different perk levels, with pricing discounts and unique added benefits. Early Bird backers can enjoy as much as a 39% discount off Tula Mic's MSRP.
The Tula Mic has been verified as Production Ready by Indiegogo so backers can rest assured that the Tula will be delivered on time.
To learn more about Tula Microphones and the new Tula Mic, visit http://www.tulamics.com. Interested backers can find more information on the Indiegogo campaign at http://www.igg.me/at/tulamics.
About Tula
Tula Microphones is a hardware and software company dedicated to creating the world's most user-friendly sound-capturing device. Founded by audio industry innovator David Brown, the mind behind the heralded Soyuz Microphones brand, Tula Microphones' flagship product, the Tula Mic, launched on September 22, 2020, on Indiegogo. The product was designed in Barcelona in conjunction with Red Dot winning industrial designers, and features advanced noise reduction software.