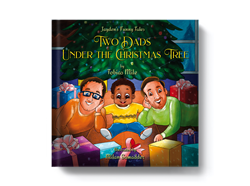 NEW YORK (PRWEB) June 18, 2020
Two Dads Under the Christmas Tree is a children's book about Adoption. It is the first book of "Jayden's Funny Tales" series created by Tobias Mile. The book, 32 pages with 13 color pages illustrated by Milan Samadder, will be printed in a luxury hardcover edition and published on September 2020.
Inside, you will find fun, touching moments, and a deep sense of humanity that will describe the first year of life of this "little pest" and his two dads. The book has already been translated into Italian and goals of the publishing company, the True Colors Lab, are to raise awareness about adoption, spread the book everywhere, and reach countries where same-sex couples and single individuals who wish to adopt are discouraged or even denied. 
The crowdfunding campaign to support the project, and to make possible the translation of the book into Spanish and French, will be launched by True Colors Lab Publishing on Kickstarter.com next June 21st (Father's Day).
https://www.kickstarter.com/projects/truecolorslab/two-dads-under-the-christmas-tree
Why this book?
In the summer of 2018, during a business trip to Venice, Italy, Tobias Mile, the author, was looking for a new idea for his next book. Destiny introduced him to this uncommon Italian family and, upon learning their incredible story, he was inspired to create something special featuring their adorable African-American adoptive son, Jayden. After this trip, Tobias approached the True Colors Lab with the idea of a series of funny stories about adoption, human rights, solidarity, and respect for diversity, told by this smart child in unusual language. The publishing company immediately realized this was a story that needed to be shared.
What does mean to create awareness about adoption?
According to UNICEF (the United Nations Children's Emergency Fund), there are roughly 153 million orphans worldwide.
With more than 10 million children living in institutions and over 60 million children living on the streets, adoption continues to be an important solution to finding loving homes, and more importantly, loving families for children who are otherwise facing a bleak and potentially dangerous future.
MANY PEOPLE WOULD LIKE TO ADOPT BUT THEY ARE DENIED
Currently, only 17% of countries in the world allow adoption for same-sex couples. Compared to ten years ago, the percentage has increased significantly, from 4% to 17%. But there is still a long way to go.
Out of 169 countries, only 28 authorize adoption for LGBT couples. This means in 141 countries there loving couples who are denied the opportunity to raise children. Surprisingly, Italy is among these.
Tobias Mile is the pseudonym of an author who lives in his dream place, Los Angeles. The decision not to appear personally was dictated by his conviction that the audience should be more focused on the crucial social matter of adoption, rather than his identity. Tobias, in addition to striving strenuously for human rights through his writing, is also a painter, or, as he likes to call himself, "just a lover of Beauty." Two Dads Under the Christmas Tree is the first book of Jayden's Funny Tales, soon followed by the second How to Survive this Spirited Sister! and the third Charcoalyn, the Coolest Princess.
Milan Samadder is a young Indian illustrator. He loves making all kinds of illustrations including children's books, book covers, digital portraits, concept art, cartoons, character design, game illustrations, and comics. Milan earned his BFA in Visual Arts at the Rabindra Bharati University, India, in 2009, and obtained certification as a Professional Graphic Designer with AAG (Academy of Arts and Gaming) in 2010. 
The True Colors Lab is an independent publisher of books, media and magazines mostly on how to educate new generations about equality and inclusivity.
Founded by a small group of friends with 25 years of expertise in different areas like publishing, media, organization, culture, management, and education, the True Colors Lab's main goal is to support new authors who want to make their voice heard in defense of the Human Rights.
Two Dads Under the Christmas Tree
Hardcover, 32 pages, 14 color illustrations
(size 9.5''x 9.5'')
#twodadsunderthechristmastree
#jaydensfunnytales
#truecolorslab
#tobiasmile
#allrainbowbooks
#blacklivesmatter