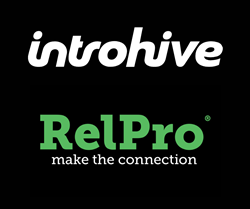 "With Introhive's advanced relationship intelligence automation technology and data automation capabilities combined with our rich data coverage and quality, our clients can marry two best-in-class solutions to support and enrich their business development activities." -- Martin Wise, CEO, RelPro
NEW YORK (PRWEB) July 14, 2020
Introhive, the world's fastest-growing B2B sales intelligence and data quality management solution, and RelPro, a leading B2B business development software and data analytics solution, announce their collaborative partnership to deliver extended relationship insights, workflow integrations and valuable time-savings to their mutual customers within the Financial Services and Professional Services sectors.
RelPro is a cloud-based business development solution that helps sales, marketing and relationship management professionals identify prospects and improve conversions by integrating data and research on more than 7 million companies and their decision-makers from 17 best-in-class sources. When combined with Introhive's relationship insights, data automation, and cleansing capabilities, mutual customers will discover new leads and relationships, realize valuable time-savings and find actionable insights to help them grow their business and deepen relationships.
The partnership was born from the desire of both companies to help their clients achieve greater sales efficiency and productivity as they regain business development momentum and adapt their go-to-market processes after the recent pandemic and economic disruptions. Shared customers of Introhive and RelPro can immediately integrate both solutions.
"Our clients use RelPro to identify new prospects and ensure the contact information they have for those prospects is accurate and reliable. Being able to map relationships that may already exist within their organization boosts the productivity of their business development professionals and increases referral traffic and collaboration," explains Martin Wise, CEO of RelPro. "With Introhive's advanced relationship intelligence automation technology and data automation capabilities combined with our rich data coverage and quality, our clients can marry two best-in-class solutions to support and enrich their business development activities with little to no disruption of their day-to-day."
With many organizations facing low CRM-adoption, Introhive reduces barriers to ensure contact data is entered automatically, reducing error and increasing data quality. Further, on average, Introhive uncovers an average of 350 contacts per user - contacts that don't live within the organization's CRM. The AI engine then maps these contacts to identify relationships across prospects and customer accounts.
"We know that, for sales and business development teams in the Financial Services & Professional Services sectors, having more time directly impacts performance and profitability. With Introhive, users gain back roughly an average of 12 hours per week that would otherwise be spent on data entry or preparing for meetings," says Jody Glidden, Introhive CEO and Co-Founder. "Our Pre-Meeting Digest removes the burden of gathering information to ensure prospect or customer-facing professionals are equipped with everything they need before meetings, while Post-Meeting Reports allow for notes, tasks and activities to be added to CRM directly from the user's email inbox. When we add RelPro's database with our relationship mapping and productivity tools, customers can begin uncovering contacts and opportunities that were previously hidden."
In addition to relationship intelligence automation, Introhive has recently introduced a suite of solutions designed to improve productivity, leveraging customers' unique dataset to guide teams to more wins with tools like Deal Coach and Time Coach.
"Strategic partnerships such as this one with RelPro allow us to better understand the needs of our customers and, in turn, improve our offering and drive better results for them," Glidden adds. "At the end of the day, our customers' success is the most important KPI we can measure."
About Introhive:
Founded in 2012, Introhive is the fastest growing B2B sales intelligence and data quality management solution, recently recognized as a top 10 fastest growing technology company in Deloitte's Fast 50 Awards. Introhive's AI-powered SaaS platform is designed to help organizations realize the full value of their relationships and underutilized data across their business to increase revenues, employee productivity and to improve customer experience management. Learn more at https://www.introhive.ai
About RelPro:
RelPro's Relationship Intelligence platform was built with the experience that there is no one nirvana source of B2B company and decision-maker data – so why rely on one source of data? RelPro integrates data from best-in-class partners and the web to deliver a unique global database of over 7 million companies and 150 million business decision-makers, allowing B2B business development, relationship management & marketing professionals to quickly identify new prospects and close deals faster. RelPro includes automated Prospect Research to quickly inform your outreach, and valuable Alerts that provide a call-to-action prompting timely interactions with prospects and clients. Powerful Relationship Mapping solutions are available for enterprise clients. Learn more at http://www.relpro.com and schedule a demo at learn.relpro.com