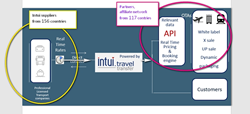 LONDON (PRWEB) February 19, 2020
Intui Travel, a leader in airport transfer services, announced today that it has expanded its operations. The company now partners with travel agencies and tour operators in 117 countries. Intui Travel's API allows to implement the seamless custom integration of airports, ports, railway stations, major tourist attractions transfers bookings directly on online travel agencies' and other travel industry websites.
Such API integration positively impacts the local businesses in two different ways. Travel Agencies and Tour Operators can offer an additional service to their customers, and extend the value chain. Additionally, the local transport companies in all 156 countries can get pre-qualified and registered with Intui Travel to generate additional revenue.
"Airport Transfer as a Service can be a real headache, or worse, without the right partner," said Alena Balakhnicheva, Chief Marketing Officer of Intui Travel. "It's usually not a big problem to get to someone's local airport with no major issues. But, when your clients land in a foreign country, you might find yourself having great difficulty finding a safe, reliable and affordable transfer to the ultimate destination for travel agencies' customers. That's the problem we solve. And now, we're doing it in more countries than ever before."
Travelers can book airport transfers on the company's website, https://en.intui.travel/, which is available in seven languages. The site features an easy-to-use interface that enables booking with more than 4,000 transfer providers at 4,500 airports, reaching 66,000 cities. The service covers 6 million routes. Providers offer luxury or economy class cars, limousines or minivans. Customers can arrange for unusual luggage like skis or surfboards. The company accepts 42 payment solutions in 18 currencies.
Intui vets all transfer providers, requiring that they carry insurance and meet safety standards. "Getting a ride with an uninsured, random taxi in some countries can result in serious problems or even tragedy," Balakhnicheva added. "It's wise to know whom you're dealing with before you get on the plane."
The company has been operating for seven years. Intui Travel works with affiliates, offering a customizable white label version and API for integration of bookings of transfers for the travel agents and tour operators websites.
For more information, visit https://en.intui.travel/
Media Contact
Alena Balakhnicheva
Chief Marketing Officer
Intui Travel
Tel: +44 2037 780 157
Email: TransferPartner@intui.travel