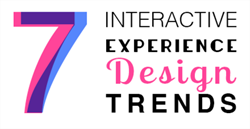 With "7 Trends for Interactive Experience Design", IntuiLab shares its unique insight as an interactive exhibit.
Toulouse, France (PRWEB) May 26, 2015
IntuiLab, provider of IntuiFace, the world's premier interactive experience creation platform, is proud to announce the availability of "7 Trends for Interactive Experience Design". Built using IntuiFace, this multi-touch showcase uses explanatory videos, interactive presentations, animated graphics and high definition illustrations to review each design trend and provide reusable examples. It is free for all IntuiFace users - even those with a free account - permitting unlimited downloads, modification and distribution without restriction. A preview of its contents can be found here.
IntuiLab was founded in 2002 with a focus on touch-based digital interaction. After hundreds of multi-touch projects and feedback from thousands of IntuiFace users, IntuiLab has acquired a uniquely informed perspective on interactive experience design principles. Interactive experience design has its own set of usability and aesthetic principles different from those associated with Web or mobile design. Approaches must balance expectations derived from handheld device use with human-machine interaction principles and environmental factors. IntuiLab believes part of its mission is to educate its user community about what is occurring in the interactive experience design world for everything from UX to graphics to interaction to motion design.
With "7 Trends for Interactive Experience Design", IntuiLab shares its unique insight as an interactive exhibit in its own right. Readers can use their mouse or touchscreen to navigate an encyclopedic look at:

Flat, Typographic and Vintage Visual Styles
Parallax and Scrolling Animation Navigational Styles
Connection via Social Media and Internet of Things
Each topic is accompanied by a variety of graphic and animated content, all of which both informs the reader and can be reused in any IntuiFace-based experience. Readers gain not just an understanding of these seven key principles but also learn how to capture or reuse them in IntuiFace without having to write code.
The IntuiFace platform - built from the ground-up with multi-touch capabilities at its core - enables businesses to create engaging, highly interactive experiences without coding that can be deployed within minutes on any touch- or gesture -enabled display. These touch-first experiences can incorporate a wide variety of media formats, an open connection to cloud-based data and APIs (including the Internet of Things), a broad range of expressive capability (based on triggers and actions, animation and binding) and all of the core capabilities necessary for successful deployments and management, including analytics. Plus, there are no template restrictions – users have unlimited design freedom – ensuring no company is forced to adopt narrow or strict presentation styles.
"We are very excited to contribute to the young but explosive growth in the designer community of interactive experience creation," said Vincent Encontre, CEO of IntuiLab. "And what better way to do so than through the use of an interactive experience platform! Our aim is to help creatives around the world realize concepts they may have once thought out of reach due to a lack of coding skills or domain insight. Good design is good business."
IntuiFace can be used for free simply be registering at http://www.intuilab.com. The "7 Design Trends" experience is available for download within IntuiFace Composer and can be modified, edited and repurposed. A Behance page captures a portfolio of animated graphics from this new exhibit. A video is also available for a 90 second preview.
About IntuiLab
IntuiLab makes IntuiFace, the world's premier platform for creating, deploying, measuring and managing deeply interactive, connected and expressive digital experiences without writing one line of code. IntuiFace is used by hundreds of companies across 55+ countries to build experiences driven by mobile devices, multi-touch displays, Microsoft Kinect gestures, RFID/NFC readers, the IoT and much more. For any industry – including retail, hospitality, real estate, tourism, education – and for any intent – from digital signs and self-service kiosks to assisted selling and interactive storytelling.