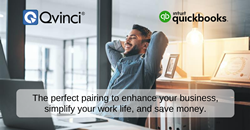 This is a giant step forward for Qvinci, Intuit, and most importantly for our customers who now have a single source to procure all their Intuit & Qvinci products at a much-reduced package rate. Plus, they can rely on a single "rock star" customer support team. Brad Adams, President & CEO, Qvinci
AUSTIN, Texas (PRWEB) September 22, 2022
Qvinci® Software has teamed up with Intuit to be a provider of the world's most popular accounting software as well as Qvinci's own suite of financial reporting and business intelligence tools, all in one high-impact package.
This mighty pairing positions Qvinci to offer Intuit products at a substantially reduced package price that enhances the bookkeeping and reporting capabilities of our valued customers while training them in best practices for their effective use.
CLICK HERE TO READ FULL RELEASE
The Customer Benefits from Intuit:

ALL QUICKBOOKS ACCOUNTING PACKAGES – Includes Desktop and all Online versions.
QUICKBOOKS DESKTOP TO ONLINE MIGRATION – Access your data from any device, get expert help when you need it, automate essential reporting and transactions, and eliminate the hassle of backing up your information.
PAYROLL – Tax penalty protection (up to $25,000), same-day direct deposit, automated payroll, HR advising, and tax calculation and filing.
MERCHANT SERVICES – ACH and eChecks, automated recurring invoices, fast deposits, accept payments from anywhere, and track invoices.
TIME TRACKING – Schedule employees by jobs or shifts, access real-time reports, manage teams and projects with geofencing technology, and track employee clock ins and outs.
And lots more…
The Customer Benefits from Qvinci:

AUTOMATED DATA COLLECTION, CONSOLIDATION, AND MAPPING – Patented automation of near real-time collection, consolidation, and mapping of financial and nonfinancial data to a Standard Chart of Accounts. Accomplishes in seconds what normally takes hours.
IMPACTFUL KPIs AND BUSINESS INTELLIGENCE – Customizable with color-coded trending (GREEN = Favorable / RED = Unfavorable) of Key Performance Indicators across multiple time periods and for the 10 key ratios that drive most organizations.
BENCHMARCHING AND TRENDING ANALYSIS – Identify best practices of top performers by comparing ecosystem peers to an ideal range of values.
CASHFLOW AND FINANCIAL FORECASTING – Improve decision-making by creating likely future realities that show the direct impact of critical financial decisions on an entity's income, expenses, and cash position over time.
GENERAL LEDGER ACCESS AND JOURNAL ENTRY MANAGMENT – Simplify your life with easy to access General Ledger and journal entries management system that comprise that specific entity's account interactions for the specific time period needed.
NEW DRILL-DOWN FUNCTIONALITY – Enhanced ability to drill into increasingly granular data from the dashboard straight to the General Ledger in 4 clicks of a mouse.
FREE JUMPSTART REPORT GALLERY – 100+ gallery report templates that are ready for use on-demand or are fully customizable.
REPORT EDITOR – Excel-like but eliminates the spreadsheet chaos. If you can envision it in Excel, you can likely build it in Qvinci.
QUICKBOOKS TRAINING – In-demand webinars led by industry experts and focused on improving bookkeeping accuracy and efficiency for franchises and faith-based organizations.
ROCKSTAR CUSTOMER SUCCESS – Acclaimed team of friendly experts who are ready to help every step of the way.
And lots more...
CLICK HERE TO READ FULL RELEASE
SPECIAL LIMITED PRICING!
When Fathom ceased being included with QuickBooks Online Advanced, Qvinci was called into action. Qvinci stepped up and offered a special pricing package that continues today. It has been a monumental success. We are now offering the same package savings to anyone who wants QuickBooks and/or Qvinci. The offer is simple:
Already have QuickBooks? Add Qvinci at a 50% discount for 3 months!
Need to purchase QuickBooks Online Advanced? When QuickBooks Online Advanced is purchased through Qvinci, Qvinci is included for FREE!
For all other QuickBooks and Qvinci packaged solutions, contact us for discounted and bundled pricing!