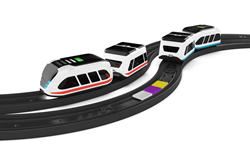 The train's purpose is universal, and we intend to bring our play smarter technology and its educational benefits to children and adults around the world. - Dr. Armen Kroyan, Founder and CEO.
LOS ANGELES (PRWEB) September 11, 2019
Consumer robotics company, intelino® announced their most intuitive, interactive and intelligent smart toy is now available in select Apple Stores. By encouraging children to "play smarter®," the nostalgic toy train, priced at $99.95, has been given a technological upgrade for everyone ages 3 – 99 to bring the past and the future together in one toy.
Intelino believes in hands-on play combined with advanced technology, and that toys must educate the next generation with STEM fundamentals. Playing with the smart train supports the growth of STEM play. Founder and CEO of Innokind, Inc., the developer and manufacturer of intelino, Dr. Armen Kroyan understands this as a father himself. The smart toy was invented with his two children in mind.
"This smart train showcases our advanced technology made simple and intuitive even for those as young as 3-year-old." said Dr. Kroyan. "The train's purpose is universal, and we intend to bring our play smarter technology and its educational benefits to children and adults around the world."
The intelino Smart Train engages children to play with the reinvented toy while learning the basics of coding and STEM. Through intelino's color snaps, small plastic titles that can be easily placed on and off the train tracks, the toy engine's sensors read the colors as commands. These commands can include speeding up, slowing down, reversing direction, steering at track junctions and dropping off the wagon. To give the players even more control, the magenta color snap enables customizable commands via the Snap Editor in the train's companion mobile app. This can include commanding the train's actions on the tracks, making sounds, changing colors and more.
With the emerging importance of early STEM education, intelino promotes children to play smarter from a very young age, builds confidence and naturally fosters their interest in STEM. The familiarity of the toy train experience overcomes STEM intimidation and quickly engages children to play and have fun. And the advanced technology features such as a powerful 32-bit ARM processor with Bluetooth Smart connectivity and sensory interactivity enable screen-free and connected play modes and experiences for kids and train fans of all ages.
The intelino Smart Train mobile app is available on the App Store and Google Play store. This application adds a new element of play and control with the self-driving Autopilot and Manual driving modes. Players can race around the track with top speeds of up to 3.3 ft/s (100cm/s), program custom actions in the Snap Editor and more.
About intelino®
The intelino® smart train is developed and manufactured by Innokind, Inc. (dba intelino) under the leadership of its founder and CEO, Dr. Armen Kroyan – an accomplished technologist, inventor and entrepreneur. Intelino is a consumer robotics technology company with an international and U.S. patent and trademark portfolio. The company's product focus is on smart and developmental toys and consumer products under its intelino brand. Additional information can be found at intelino.com.