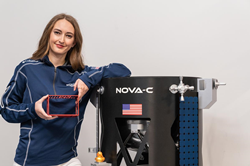 "I would not have been able to pursue my dream without scholarships, awards and grants. I'm so grateful to the organizations that have made it possible for me to become an aerospace engineer." --Taylor M. Yow, Embry-Riddle graduate student
DAYTONA BEACH, Fla. (PRWEB) January 31, 2023
Intuitive Machines, maker of the Nova-C Lunar Lander currently expected to launch in spring 2023, and Columbia Sportswear have teamed up with Embry-Riddle Aeronautical University to support outstanding women in STEM. The new program will provide scholarships as well as fellowship opportunities to uplift undergraduate and graduate students in STEM-related fields.
Columbia and Intuitive Machines are partnering on this scholarship ahead of Intuitive Machines' first mission to the moon, in which the lunar lander will incorporate Columbia's Omni-Heat Infinity reflective insulation to help protect it from the extreme temperatures in space. Launching in fall 2023, the Intuitive Machines and Columbia Sportswear Advancing Women in Technology Program is supported by $200,000 in resources for students, which includes a $100,000 gift from each of the companies.
The selection process begins this spring and will provide approximately a dozen scholarships for undergraduate as well as graduate students at Embry-Riddle.
Supporting Women in STEM
Inspired by the Embry-Riddle engineering students who designed and built EagleCam, a small camera that will deploy from the lander on its descent to the moon's surface to capture the historic landing, Columbia and Intuitive Machines want to help open doors for more women to enter fields in science, technology, engineering and math (STEM).
One woman in STEM, Taylor M. Yow, will become a part of science history when the next Moon landing takes place. Technology that Yow helped develop as part of Embry-Riddle's EagleCam team will be one of the first American satellite systems to touch the lunar surface since 1972.
EagleCam will be taking the world's ultimate selfie when it captures the first-ever third-person views of a spacecraft making an extraterrestrial landing. As the Intuitive Machines Nova-C Lunar Lander approaches the surface of the moon, EagleCam will separate from the lander and land on the moon to capture the moment it touches down. More than just a camera, EagleCam will also uncover new scientific findings through dust plume imagery, dust accumulation analysis and lunar surface imagery.
Yow and other students are eagerly awaiting the lunar landing. A graduate student pursuing a master's degree in Aerospace Engineering, Yow said she never would have made it to Embry-Riddle at all without financial support.
"I would not have been able to pursue my dream without scholarships, awards and grants," said Yow, who grew up in Niceville, Florida. "I'm so grateful to the organizations that have made it possible for me to become an aerospace engineer."
Such initiatives are critically needed to help inspire more women like Yow, who plans to pursue an Engineering Ph.D. next. Women's participation in engineering and computer science remains low, and across all STEM fields, fewer women than men earn doctorate degrees, according to the National Science Foundation (NSF). For example, only about 2,700 women reached that goal in 2018, the NSF has reported.
For more information about the Intuitive Machines and Columbia Sportswear Advancing Women in Technology Program at Embry-Riddle, please visit http://www.intuitivemachines.com/columbia-partnership.
###
Embry-Riddle Aeronautical University
Reporters worldwide contact Embry-Riddle Aeronautical University for content experts in all aspects of aviation, aviation business, aerospace, engineering and STEM-related fields. Our faculty experts specialize in unmanned and autonomous systems, security and intelligence, air traffic and airport management, astronomy, human factors psychology, meteorology, spaceflight operations, urban air mobility and much more. Visit the Embry-Riddle Newsroom for story ideas.
Embry-Riddle educates 32,750+ students at its residential campuses in Daytona Beach, Florida and Prescott, Arizona, at approximately 110 Worldwide Campus locations and through online degree programs. In 2023, U.S. News & World Report named Embry-Riddle Worldwide the nation's No. 2 provider of online bachelor's degree programs. The university has ranked either No. 1 or No. 2 in this category every year since 2016. Our residential campuses hold multiple Top 10 rankings. All of our campuses have been ranked Best for Veterans.
Intuitive Machines
Intuitive Machines is a diversified space company focused on space exploration. Intuitive Machines supplies space products and services to support sustained robotic and human exploration to the Moon, Mars, and beyond. Intuitive Machines' products and services are offered through our four business units: Lunar Access Services, Orbital Services, Lunar Data Services, and Space Products and Infrastructure. For more information, please visit intuitivemachines.com.
Columbia Sportswear
Columbia, the flagship brand of Portland, Oregon-based Columbia Sportswear Company, has been creating innovative apparel, footwear, accessories and equipment for outdoor enthusiasts since 1938. Columbia has become a leading global brand by channeling the company's passion for the outdoors and innovative spirit into technologies and performance products that keep people warm, dry, cool and protected year-round. To learn more, please visit the company's website at http://www.columbia.com.