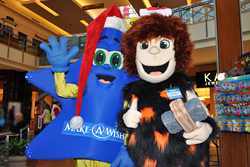 PITTSBURGH, PA (PRWEB) December 17, 2014
InventHelp, a leading inventor service company, is partnering with the Greater Pennsylvania and West Virginia Make-A-Wish Chapter on December 17th, 2014. Join InventHelp employees and their beloved caveman mascot, Cavey, for the 26th Annual Holiday Campaign to help make children's wishes come true! Make-A-Wish grants wishes of children with life-threatening medical conditions to enrich the human experience with hope, strength and joy. InventHelp is proud to support this wonderful cause and asks that you please make a donation by visiting The Mall at Robinson December 16-19 or make a donation online. Pittsburgh's WISH 99.7 FM is sponsoring this event.
In 2013, The InventHelp staff, along with Cavey the caveman, volunteered at the 25th Anniversary Light Up A Child's Life campaign for Make-A-Wish Greater Pennsylvania and West Virginia held at Robinson Mall in Robinson Township. InventHelp President, Robert Susa, along with his family, presented Make-A-Wish with a $3,900 Wishmaker donation from the company and staff.
InventHelp employees also volunteered to collect shopper's donations for the Make-A-Wish Wishing Well during the holiday season. The InventHelp team is grateful and humbled to have been a part of this inspiring and touching event and looks forward to participating again this year. InventHelp employees are involved in many community outreach programs and enjoy giving back to regional and national charitable organizations.
InventHelp is a leading inventor service company, helping inventors since 1984. Learn more about InventHelp and their invention submission services here. InventHelp, 217 9th Street, Pittsburgh, PA 15222.
# # #