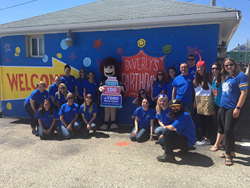 PITTSBURGH, PA (PRWEB) April 19, 2017
On Tuesday, April 18th,InventHelp employees volunteered and presented Beverly's Birthdays, a Pittsburgh non-profit organization that provides birthday cheer for children experiencing homelessness and families in need, with supplies for 100 'Birthdays-in-a-Bag' as well as a monetary donation.
"Our employees were delighted to spend the day at Beverly's Birthdays assembling birthday bags to spread cheer! This is an organization bringing so much joy to kids in our community", said Nicole Lininger, Director of Corporate Communications for InventHelp.
InventHelp, a leading inventor service company, donated all of the supplies to assemble 100 'Birthdays-in-a-Bag' complete with cake mixes and themed party supplies. The company's employees also spent the day volunteering their time , stuffing birthday bags of cheer. They also helped load up the truck to deliver bags to the food bank, and worked on stocking inventory.
In March of 2011, Beverly's Birthdays founder, Megs Yunn, met a young girl, Beverly, who shared that she had never had her own birthday party or even her own slice of birthday cake. Inspired by Beverly's story, Megs decided to start an organization that provides birthday celebrations for homeless children in the Pittsburgh Region.
Beverly's Birthdays currently partners with agencies across the Pittsburgh region to ensure that no child is forgotten on his/her special day. Since their inception they have created over 10,000 birthday experiences….A TON OF BIRTHDAY CHEER!
Headquartered in Pittsburgh, PA, InventHelp is a leading inventor service company, with regional sales offices in more than 60 cities in the United States and Canada. For more information about InventHelp's community involvement, visit http://www.InventHelp.com/community-service. InventHelp, 217 Ninth Street, Pittsburgh, PA. (412) 288-1300 x4159.
# # #