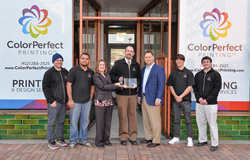 PITTSBURGH, PA (PRWEB) March 23, 2016
We are pleased to announce that ColorPerfect Printing took home the award for Convention Services Partner of the Year, given by VisitPITTSBURGH on March 22, 2016 at their Annual meeting.
ColorPerfect Printing (CPP) was chosen by the staff and Board of Directors of VisitPITTSBURGH, the Greater Pittsburgh Convention and Visitors Bureau, because of the outstanding service in providing quality printing services and quick turnaround of printed materials for convention clients.
CPP is a full service print provider that specializes in precise, high quality, color printing. The knowledgeable staff is committed to providing their clients with exceptional customer service. Equipped to handle all printing needs of any size, CPP is backed by over 20 years in the printing industry. Located conveniently near the David L. Lawrence Convention Center at 804 Penn Avenue, the business is open Monday-Friday from 8:30 a.m. – 5:00 p.m. Visit http://www.colorperfectprinting.com for more information or to place an order.
"We are so honored to accept this prestigious award from VisitPITTSBURGH," said John Wheatley, CPP Operations Manager. "We pride ourselves in growing with the ever changing world of the printing industry, and will continue to build and foster our unparalleled dedication to high-quality printing services."
ColorPerfect Printing is owned by Robert Susa, owner of InventHelp®, a leading inventor service company. Located in Pittsburgh, Pennsylvania, CPP is a full service printing and print management firm. They strive to always give their expert advice and friendly service and they help encourage their customers to speak in color. For more information, visit http://www.colorperfectprinting.com or call (412) 288-2525.
# # #