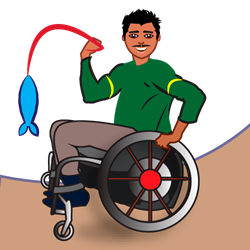 Maureen recently wrote, My husband is a paraplegic and was dying to send his fishing buddy one of those icons! Thanks again.
LEAGUE CITY, Texas (PRWEB) December 06, 2018
"Wouldn't it be nice to have an emoji that look like the person sending them?" That off-hand question from a public health student to her mother launched a whole new world of emoji. Since that time, iDiversicons™ has changed the emoji landscape and has added more than 900 "looks like me" emoji for mobile devices.
Katrina Parrott had just been laid off by a NASA contractor and after much deliberation decided to start her own business, Cub Club Investment, LLC. It was then that her daughter Katy asked that pivotal question. In answer, the mother and daughter created iDiversicons™ on October 11, 2013. Since the launch, mom Katrina has become a renowned native app developer, and has been featured in publications like PCWorld, Bustle, and Seventeen. Meanwhile, Katy has continued with her education and now holds a Master of Science in Public Health and is pursuing medical school.
Since its inception, iDiversicons™ has continued to expand the diversity in its palette of emoji. The company's more than 900 emoji include couples, families, and gestures, as well as gender variations and gender-neutral and biracial representations. iDiversicons is proud that no matter where users are from, "chances are you'll see faces that look like you."
iDiversicons™ allows its users to really express their individuality, with representations of hobbies, sports, religious beliefs, professions, and so much more. In 2015, the company worked with the late disability rights leader Greg Smith to create "Disability Pride Emoji." These continue to be very much appreciated by the disability community. Maureen, a recent customer, wrote, "My husband is a paraplegic...and was dying to send his fishing buddy one of those icons! Thanks again."
As the company continues to innovate, they have recently added the animated GIFs on their iOS Version 11.0 keyboard and are looking forward to adding them to the Android mobile platform.
iDiversicons™ emoji and the new IOS animated GIFs are available for purchase from http://www.iDiversicons.com. Customers can also purchase them from the Apple App Store at https://apple.co/1V88ILb, and coming soon to the Google Play Store. The emoji can be used in most applications that support media, including multimedia messaging service, text, email, social media and iCloud messages.
About iDiversicons
iDiversicons™ is a product of Cub Club Investment, which is headquartered in League City, Texas. Since launching the app in 2013, Katrina Parrott has served as its chief executive officer. Learn more at http://www.iDiversicons.com.