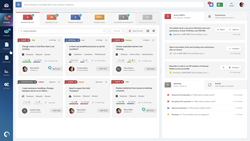 SAN FRANCISCO (PRWEB) April 01, 2020
InvGate a provider of IT service management (ITSM) and IT asset management (ITAM) solutions, today announced a global COVID-19 response program, through which any organization globally – that needs help with its COVID-19 response efforts – can request access to free seats or licenses for InvGate products.
InvGate's solutions help any type of organization to manage and track incoming work efficiently, which is particularly important in the current crisis. To help all organizations requiring assistance, the InvGate COVID-19 response program consists of three key elements:
1- Any organization, no matter its size or industry, can use the cloud-based InvGate Service Desk solution for free for 120 days. InvGate will provide the software, training, and support to get your organization started in as little as 30 minutes. To learn more, and to get started, please click here.
2- Organizations that work directly on COVID-19 response efforts can use all InvGate products for free for no less than six months. This includes NGOs, non-profits, healthcare providers, and R&D organizations. InvGate will provide your organization with the free software and support needed to help you in your important work. Your organization can apply for help, under this section of the program, here.
3 - All existing InvGate customers can benefit from free additional licenses on all InvGate products for 90 days to support the increased workloads COVID-19 is placing on their internal service teams (IT, HR, facilities, maintenance, etc.). InvGate will contact customers directly to explain how they can take advantage of this offer.
About InvGate
InvGate is a provider of ITSM and ITAM software, offering complementary IT management solutions that are designed to simplify the lives of IT professionals. Founded by Ariel Gesto in 2004, with a desire "to help our customers to help their customers, through capabilities designed to optimize IT service delivery and support," the company now serves over 3000 customers worldwide. Headquartered in Buenos Aires Argentina, InvGate also has offices in the United States, as well as partners across Europe and Australia. For more information, please visit http://www.invgate.com or follow InvGate on Twitter @InvGate.