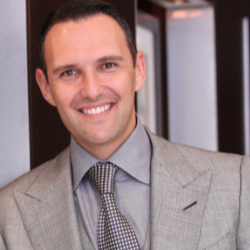 Invisalign® is the perfect solution for many of my patients
Beverly Hills, CA (PRWEB) September 08, 2014
Dr. Arthur Glosman now using invisible teeth aligners provided by Invisalign® as a preferred dental treatment for patients seeking straight teeth. Dr. Glosman is an early adopter of the Invisalign® system because of the multitude of teeth alignment solutions the procedure can achieve while providing more comfort than metal braces.
"Invisalign® is the perfect solution for many of my patients," Dr. Glosman states. Contrary to metal braces, Invisalign® uses a sequence of clear, removable teeth aligners to shift teeth into a straighter position. Regular braces are characteristically associated with making patients experience pain, discomfort, mouth sores and other issues caused by the brace wires.
"Traditional braces can also lead to decay caused by insufficient brushing and flossing, not to mention plaque buildup and tooth discoloration," Dr. Glosman says. "Having traditional metal braces also can limit a patient's diet of food such as popcorn, chips, hard-crusted bread, nuts, candies; plus, apples, carrots, and corn on the cob cause many complications."
For patients interested in Invisalign®, Dr. Glosman indicates that most general and cosmetic dentists should be able to determine whether patients would be a good candidate for the procedure during the first consultation. "Invisalign® are unobtrusive and can be easily removed for eating, drinking and brushing," Dr. Glosman says."The treatment is a sensible solution for most patients looking to straighten crooked teeth comfortably and discreetly."
For more information about Invisalign® in Los Angeles please contact Arthur Glosman DDS
###
About Arthur Glosman
Cosmetic Dentist Arthur Glosman DDS offers a wide array of general, cosmetic and orthodontic dental services to patients in Beverly Hills and neighboring communities who demand the best in overall dental care. His extensive experience in various fields of dentistry, including training in health and beauty care, gives him an edge over other cosmetic dentists in Los Angeles. Satisfied patients from all over the world have benefited from the advanced dental and beauty solutions offered by Arthur Glosman and his staff, reinforcing his reputation as one of the best cosmetic dentists in Beverly Hills and beyond. He has not only allowed patients to get back the lost beauty and state of their teeth, but also enabled them to improve the quality of their lives by boosting their inner confidence and outer looks. His comprehensive and comfortable approach are why most people who demand top quality dental work prefer to visit Dr. Glosman with all their dental concerns.
Website: http://arthurglosmandds.com/