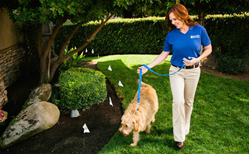 January is National Train Your Dog Month and Invisible Fence® Brand solutions and training methods developed with (and approved by) leading animal behaviorists, can give your new pet freedom on your terms.
KNOXVILLE, Tenn. (PRWEB) January 21, 2019
Is there anything sweeter than a new puppy? Invisible Fence® Brand admits dogs bring energy, love and fun into our lives, but without a proper training foundation, even the dreamiest pup can begin to feel like a bit of a nightmare. If you have a new dog addition in your home, plan to set aside time each day to work on training. Where to start? Here's great advice from the experts, along with some of the most common training mistakes.
Tip #1: Ask for Help
Successful training is as much about the owner's discipline as it is the dog's. Many puppy parents think they're doing the right thing, when their approach is actually counterproductive. For instance, sticking your dog's nose in her mess when she goes to the bathroom in the house? Not the best move. Never correct a dog going to the bathroom in the wrong place after the fact – only if you catch them in the act. Heidi Ganahl, CEO/founder of Camp Bow Wow, suggests new owners take a training class to learn the skills they need: "If you're finding difficulty in training your pet, try taking a pet training class. A professional can help you learn the skills needed to make changes in your pet's behavior."
Tip #2: Love Is NOT All You Need
We all know that puppy snuggle time is the best, but it takes a lot more than affection to turn a rambunctious puppy into a well-behaved dog. "The most common mistake I see is not following what I call the fulfillment formula — that is, exercise, discipline, then affection," says Cesar Millan, host of National Geographic Channel's Dog Whisperer. "We tend to give affection, affection, affection and this creates unstable dogs and bad behavior because then you have trouble earning your dog's trust, respect and loyalty."
Tip #3: Don't Ignore Bad Behavior
According to animal expert and TODAY Show contributor Tamar Geller, it's a mistake to assume your puppy will outgrow bad behaviors. "The longer your dog is allowed to continue inappropriate behavior, the more certain he will believe that it is acceptable," she explains. Be proactive about stopping unwanted habits like jumping and chewing early on.
Tip #4: New Tricks
It might be tempting to try and teach all sorts of new tricks to your puppy, but pro trainers like Brandon McMillan, host of the Lucky Dog, say less is actually more. "Instead of teaching my dogs 20 commands that they might not be great at, I teach them to be perfect at the 7 most common commands you say on a daily basis which are: Sit, Stay, Down, Come, Off, Heel and No," McMillan notes.
Tip #5: Little Temptations, Big Trouble
When drawing boundaries in and around your house, proactively start with little items and areas that could entice your puppy. "Don't wait for him to develop bad habits, like chewing the furniture or urinating on the carpet, before you intervene," says dog behaviorist Jean Donaldson, author of "Dogs Are From Neptune." "Assume this behavior is likely to happen, and act preemptively to manage it before it develops."
Training your high-spirited new family member takes patience and consistency, but if you put in the work up front, it will pay off and you'll save yourself a lot of frustration and "accidents" in the years ahead.
January is National Train Your Dog Month and Invisible Fence® Brand solutions and training method developed with (and approved by) leading animal behaviorists, can give your new pet freedom on your terms. Learn about our Indoor and Outdoor Shields, Fencing Solutions, Pet Doors and more here.
More About Invisible Fence® Brand
Invisible Fence pioneered the pet containment industry in 1973, making it their mission to provide safe boundaries inside and outside of the home. The Radio Systems Corporation® owned company predominantly sells pet containment, avoidance and access solutions across the U.S. and Canada. In addition to offering award-winning products like Boundary Plus® Technology, Authorized Dealers provide professional installation, Perfect Start™ Plus Training and integrated solutions that have protected more than three million pets to date. Invisible Fence also founded the Project Breathe™ Program in 2006, donating more than 24,000 pet oxygen masks to fire departments and first responders. For more information on Invisible Fence or to find a local dealer, visit InvisibleFence.com or follow the company on Facebook.