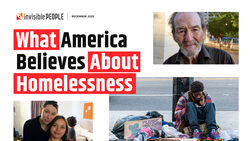 "More than three-quarters of the public believe homelessness has increased within their own community this year," said Horvath. "The ongoing COVID-19 pandemic has intensified the urgency in solving the homelessness crisis in the U.S., as we face a growing wave of evictions and foreclosures."
LOS ANGELES (PRWEB) December 17, 2020
Invisible People, a nonprofit dedicated to educating the public about homelessness, released today a comprehensive report detailing public perceptions of homelessness in the U.S and messaging recommendations for advocates and policymakers. The report highlights the growing disconnect between public perceptions and the actual root causes that make a person vulnerable to losing their home – from unemployment to rising healthcare costs and a shortage of affordable housing.
In September 2020, Invisible People surveyed more than 2,500 U.S. residents in 16 cities to identify public attitudes about homelessness and measure support for common policy recommendations. Researchers studied how different audiences receive and interpret messages about homelessness. The report, What America Believes About Homelessness, also provides a toolkit for building public and political support designed for policymakers, advocates, service providers and others working to end homelessness.
"More than three-quarters of the public believe homelessness has increased within their own community this year," said Mark Horvath, founder and CEO of Invisible People. "The ongoing COVID-19 pandemic has intensified the urgency in solving the homelessness crisis in the U.S., as we face a growing wave of evictions and foreclosures across the U.S."
What America Believes About Homelessness highlights broad public support for humane policy solutions, including expanded mental health services (82%), permanent supportive housing (75%) and rental assistance programs (71%). While public perception on policy solutions aligns with the recommendations of experts in the sector, the study reveals a significant gap between the public conversation on homelessness and discussions happening in policy and research spaces. While experts point to a lack of income and the scarcity of affordable housing as central causes of homelessness, Invisible People's report shows the public believes mental illness and addiction are the culprits.
"Driven by local news stories and what people see in their own communities, public perception centers on a few of the most visible negative consequences of homelessness," said Horvath. "The visibility of addiction and mental illness play an outsized role in the public's imagination. The resulting stigma drives negative perceptions of homeless people and opposition to housing projects. Addressing these concerns requires consistent messaging that humanizes homeless people, helping the public to shift from sympathy to empathy."
What America Believes About Homelessness was created through a collaboration with partners Alter Agents, Opinion Route and Barbara Poppe and Associates. Barbara Poppe is the former executive director of the United States Interagency Council on Homelessness, where she led the launch of the first comprehensive federal strategic plan to prevent and end homelessness in 2010.
"This groundbreaking study will be incredibly useful for communities and organizations that are working to build public will to invest in solutions to reduce and ultimately end unsheltered homelessness," said Barbara Poppe. "More than ever, we need to find ways to improve communication and understanding. This landmark report on public perceptions advances that important work."
According to the report, people living in areas with higher unsheltered populations are more concerned about crime and experience greater feelings of helplessness. 'Not in My Backyard' opinions, opposing housing in one's own neighborhood, are linked to opposition to housing solutions as well as more punitive views towards homeless people. In addition, gender and political views impact opinions on homelessness, with women and those on the left of the political spectrum expressing more sympathetic opinions. Men and those on the right express more punitive views. Just 32% of the public support criminalization measures, according to the report.
"We found that stories of individuals being housed and rebuilding their lives resonate with audiences. In contrast, messaging that portrays our current system as successful is not considered credible by the general public who see evidence of individual suffering on the streets," said Mike Dickerson, researcher, co-founder of Ktown for All and author of What America Believes About Homelessness. "We recommend that advocates and policy makers avoid making big claims about systemic success, especially in communities where homelessness continues to rise."
"There is a direct line between how the public views homelessness and the policy choices leaders make. Many blame homelessness on the person experiencing it rather than the shortage of affordable housing, lack of a living wage, childhood trauma, expensive and inaccessible health care, or the countless other reasons that make a person vulnerable to losing their home," said Dickerson. "This gap between public perceptions and reality creates a cycle of misunderstanding that reduces public support for the policies we need to solve this crisis."
Download the full report here.
About Invisible People
Invisible People is a 501(c)(3) nonprofit dedicated to educating the public about homelessness through innovative storytelling, news and advocacy. Since our launch in 2008, Invisible People has become a pioneer and trusted resource for inspiring action and raising awareness in support of advocacy, policy change and thoughtful dialogue around poverty in North America and the United Kingdom.
Media Contact:
Mark Horvath, info@invisiblepeople.tv, 213-245-1519