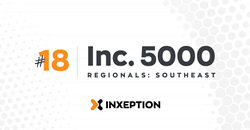 "I am proud to see a Kentucky-based company that is creating hundreds of jobs in our state receive the recognition it very much deserves. I wish Inxeption all the best in the years to come."
CUPERTINO, Calif. and LOUISVILLE, Ky. (PRWEB) February 28, 2023
Inxeption, the leader in Industrial Commerce, has been ranked number 18 out of 199 companies in the third annual Inc. 5000 Regionals: Southeast list, a ranking of the fastest-growing Southeast private companies.
"From our home in Louisville, the center of America's heartland, we are right next door to the large number of manufacturing facilities that form the foundation of the domestic industrial sector. These companies have historically been overlooked by digital commerce innovation," said Inxeption's CCO Josh Allen. "We provide manufacturers with an Amazon-like service that orchestrates the digital procurement of mission-critical products. These companies can now leave behind manual operations, partnering with Inxeption to embrace a digital business underpinned by extensive fintech and supply chain infrastructure."
The companies on the Inc. Regionals list show a remarkable rate of growth across all industries in the Southeast region. Between 2019 and 2021, these companies had an average growth rate of 673 percent; in 2021 alone, they added 25,844 jobs and nearly $7 billion to the Southeast region's economy.
"I recently had the opportunity to visit Inxeption's Louisville headquarters, and it was great to see this rapidly growing company's progress up close," Kentucky Gov. Andy Beshear said. "I am proud to see a Kentucky-based company that is creating hundreds of jobs in our state receive the recognition it very much deserves. I wish Inxeption all the best in the years to come."
Louisville Mayor Craig Greenberg said, "The presence of innovative technology companies like Inxeption in Louisville not only leads to job growth in a revitalized downtown area but continues to put the city on the map as a technology bright spot in the Southeast. Congratulations on Inxeption's continued success in Louisville."
Complete results of the Inc. 5000 Regionals: Southeast, including company profiles and an interactive database that can be sorted by industry, metro area and other criteria, can be found at inc.com/southeast.
"This year's Inc. 5000 Regional winners represent one of the most exceptional and exciting lists of America's off-the-charts growth companies. They're disruptors and job creators, and all delivered an outsize impact on the economy. Remember their names and follow their lead. These are the companies you'll be hearing about for years to come," said Scott Omelianuk, editor-in-chief of Inc. magazine.
Inxeption has continued to grow exponentially. The company achieved more than 200 percent growth in Q4 while surpassing a $300 million revenue run rate. In that same period, demand for solar products and energy storage in the Inxeption Marketplace drove annual run rate revenue from $220 million to $300 million.
About Inxeption
Inxeption is the leading technology platform digitizing the global Industrial Commerce value chain. We are advocates for our ecosystem of suppliers and buyers, enabling them to Do Business Better.
More about Inc. and the Inc. 5000 Regionals
Methodology
The 2023 Inc. 5000 Regionals are ranked according to percentage revenue growth when comparing 2019 and 2021. To qualify, companies must have been founded and generating revenue by March 31, 2019. They had to be U.S.-based, privately held, for-profit and independent—not subsidiaries or divisions of other companies—as of December 31, 2021. (Since then, a number of companies on the list have gone public or been acquired.) The minimum revenue required for 2019 is $100,000; the minimum for 2021 is $1 million. As always, Inc. reserves the right to decline applicants for subjective reasons.  
About Inc. Media 
The world's most trusted business-media brand, Inc. offers entrepreneurs the knowledge, tools, connections and community to build great companies. Its award-winning multi platform content reaches more than 50 million people each month across a variety of channels including websites, newsletters, social media, podcasts and print. Its prestigious Inc. 5000 list, produced every year since 1982, analyzes company data to recognize the fastest-growing privately held businesses in the United States. The global recognition that comes with inclusion in the 5000 gives the founders of the best businesses an opportunity to engage with an exclusive community of their peers and the credibility that helps them drive sales and recruit talent. The associated Inc. 5000 Conference is part of a highly acclaimed portfolio of bespoke events produced by Inc. For more information, visit http://www.inc.com.