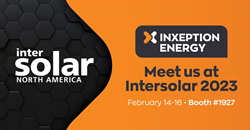 CUPERTINO, Calif. (PRWEB) February 09, 2023
Inxeption, the leader in Industrial Commerce, is bringing its digital renewable energy marketplace to the Intersolar North America conference, February 14-16 in Long Beach, California.
Schedule a time to meet with the Inxeption Energy team or stop by booth #1927 during the show to learn about the commercial and residential solar modules, inverters, batteries and other renewable energy products available on the marketplace. Inxeption carries products from Franklin, Meyer Burger, Hyperion, mSolar, Solar4America and other top-tier manufacturers.
The team at Intersolar North America includes Inxeption's industry leaders: Energy President Erin Clark; Lynn Hicks, a 15-year industry veteran; and Bob Rowatt, who joined the team last year after serving for nine years at Hanwha QCells.
Last quarter, demand for solar products and energy storage led to a growth rate in Inxeption Marketplace transactions of more than 200 percent. Half of the renewable energy marketplace transactions during the quarter were financed by Inxeption at generous payment terms with instant qualification and early-pay discounts.
To learn more, schedule a meeting with the Inxeption Energy team at Intersolar North America.
Visit the Inxeption Marketplace to purchase, finance and ship renewable energy products.
About Inxeption
Inxeption is the leading technology platform digitizing the global Industrial Commerce value chain. We are advocates for our ecosystem of suppliers and buyers, enabling them to Do Business Better.