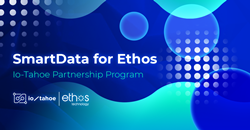 "Getting more out of data, faster and with less complexity is a top priority for most, if not all Enterprises today." Omar Galbraith – CEO Ethos Technologies
NEW YORK (PRWEB) October 01, 2020
A leader and innovator in the use of Machine Learning (ML) to automate otherwise manual data workflows, Io-Tahoe today announced the availability to partners globally of their 10 in 1 Enterprise Data Automation platform to provide a unified 360 degree view of value from data assets for enterprise and mid-market customers.
"We're excited to be expanding our network to enable our partners and their customers to automate data governance, business workflows and applications across all instances on-premise and on-cloud and to be able to manage their data from a single pane of glass. The results for CIOs and CDOs leading digital transformations to better serve their customers are lower cost of managing data with accelerated time-to-achieve business outcomes from their data." Ajay Vohora – CEO, Io-Tahoe
The SmartData Partner Program delivers an enhanced customer experience; enabling Enterprises to streamline their data and gain real-time visibility across otherwise fragmented data silos.
Io-Tahoe SmartData Partners gain access to Io-Tahoe's No-Code and Out of the Box 10 in 1 Enterprise Data Automation platform comprising of ten powerful cloud enabled data management modules:

Automated Data Discovery
Data Quality
Data Governance
Data Lake Clean-Up
Data Migration
Self-Service Access Data Catalog
Data Mapping & Knowledge Graph
Regulatory Compliance
Data Deduplication
Data RPA
"Getting more out of data, faster and with less complexity is a top priority for most, if not all Enterprises today. We believe Io-Tahoe's unique data automation platform is a game-changer in this space and we're incredibly excited to add them to our portfolio, and help enable our partners and their customers to transform the way they use their most valuable digital asset".
Omar Galbraith – CEO, Ethos Technologies
The Machine Learning (ML) driven Automated Data Discovery and Analytics empowers customer employees, not just data scientists, to analyze all forms of business data.
Whether Structured, Semi-structured or Unstructured, providing them with a complete understanding of the data associated with their business function.
Io-Tahoe's patented technology leverages ML to look at the data itself, even 'dark data', and scales to multi Petabyte repositories and thousands of data sources.
Io-Tahoe offer Partners significant opportunities to grow their revenues, provide value-added solutions and enhance customer engagement. Io-Tahoe enables partners to help their enterprise customers better understand their data by leveraging Io-Tahoe's patented algorithms and machine learning methods to automate data discovery, data management and data governance across the enterprise. Io-Tahoe continues to bring industry innovations to market to help solve complex data challenges including data quality, cloud migration, regulatory compliance (GDPR, CCPA), and support ongoing digital transformation efforts.
Please contact partners@iotahoe.com for more details.
About Ethos Technology
Ethos Technology are a value-added distributor who specialise in accelerating the adoption of next-generation, transformative technologies. Our vision is to simplify digital infrastructure and solve real business problems, whilst drastically cutting costs; this is in stark contrast to the trap many fall into of implementing technology for technologies sake.
The Ethos Technology portfolio is comprised of the absolute best of the new breed. Through our reseller partners, Ethos' helps organisation's transform the way they use technology to provide a platform for innovation, and deliver impactful business outcomes, enabling them to compete and thrive in an increasingly global economy.
About Io-Tahoe
Io-Tahoe is a global leader in Enterprise Data Automation and provides a no-code data platform that accelerates customer rapid time to value from their data assets. Some of the world's largest organizations use Io-Tahoe applications to improve customer experience, achieve operational excellence, and simplify data management and compliance.
Our patent driven technologies significantly reduce the manual effort required for enterprise data users to better know, manage and drive value from their data assets.
Io-Tahoe enables enterprise customers to automatically discover, catalog, manage and drive business value from data wherever it is held. In doing so Io-Tahoe automates the ability for enterprises to automate workflows including Data Migrations, Data Quality, Data Governance and self-service Data Analytics.
Io-Tahoe also provides an intuitive user experience designed to help technical and non-technical people collaborate. Our team has a deep understanding of data challenges, giving us first-hand insight into and appreciation of our customers' diverse and complex data needs.