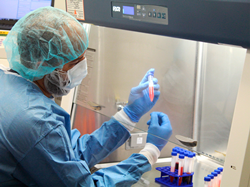 CHARLOTTE, N.C. (PRWEB) March 20, 2019
Dr. Jason Tucker founded iOBX in 2016 and they are now one of the national leaders in orthopedic stem cells for treating acute and chronic injuries such as arthritis, joint, ligament and tendon injuries. Tucker says the "future is now" and iOBX has already successfully treated a wide range of patients from NBA & NFL athletes to weekend warriors to senior citizens. "We have witnessed success in treating patients ranging from 13-93 years old and have found there is really "no better surgeon than your own body," said Tucker.
A quick overview:
Stem Cell treatments are recognized as the next major advancement in transforming the healthcare industry. At a fundamental level, stem cells reduce pain, heal injuries and improve lives. In the USA, the only way to effectively, safely and legally perform an Orthopedic Stem Cell treatment is to use the patient's' own stem cells, anything else is either illegal, consumer fraud (or both).
Because stem cells are so versatile scientists like Mike Duncan, Ph.D. a UNC and Harvard trained cell biologist and lead scientist at iOBX are excited about their ability for treating orthopedic conditions. These cells can contribute to joint structure, control inflammation, and produce key factors that support joint health. "In our onsite Orthopedic Stem Cell laboratory we use advanced proprietary protocols to concentrate and purify cells that have the ability to support tissue restoration" using FDA compliant techniques, said Duncan.
Read more: https://www.iobx.com/proprietary-onsite-lab/
About iOBX
iOBX specializes in advanced stem cell treatments and has a 90%+ success rate treating acute pain as well as chronic pain and arthritis by transferring "stem cells" from your own bone marrow and/or body fat to an area where you're experiencing pain. iOBX's founder and medical director, Dr. Jason Tucker is Board Certified in Orthopedic Medicine and has additional specialized training in Sports Medicine, Interventional Spine, and Stem Cell treatments. He earned his MD degree at Marshall University. He underwent an Orthopedic Surgery internship at the University of Tennessee and completed his residency at Virginia Commonwealth University Med Center and has completed further fellowship training at the highly respected Bodor Clinic in California, Thomas Jefferson University and Pro-Scan Imaging. Content within release has not been evaluated by the FDA. iOBX is fully FDA compliant, but Orthopedic stem cell treatments are considered investigational by the FDA.
You can learn more at https://iOBX.com or by calling their Center at (980) 859-2340.
Media Contact:
Matt Hagens
(646) 808-9989
mh(at)hagensmedia.com